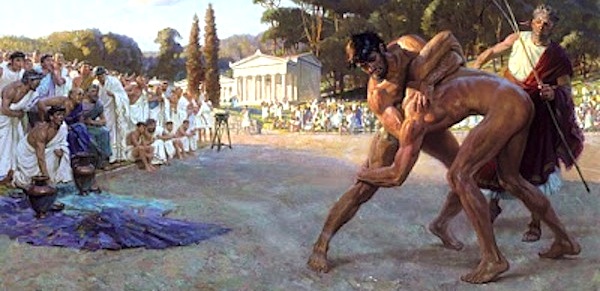 A decision by the International Olympic Committee "which is located in Switzerland and not Greece, home of the Olympics "to strike one of he most ancient and revered original sports "wrestling "from the games as of 2020 in favor of more modern events isn't sitting well with practitioners and devotees who are going to the sport's birthplace to protest.
On Saturday and Sunday, July 20 & 21, wrestlers from all over the world met at the place of origin of the Olympic Movement which is Olympia, Greece "to take part in a Senior International Tournament, the International Federation of Associated Wrestling Styles (FILA) the news agency ANSA reported. The meeting is seen as critical to try to persuade the IOC that wrestling is more important than synchronized swimming or watching gymnasts twirl ribbons.
The wrestlers said they are backing FILA's Save Olympic Wrestling campaign: wrestling is global, wrestling is for all and wrestling is one of the original sports. In February 2013, the IOC voted to remove the sport from the 2020 Summer Olympics onwards although the decision is under assault from wrestling backers.
Along with boxing, it is one of only two sports that still require participants to have amateur status to participate in the Olympics. The IOC executive board met on May 29th in St. Petersburg, Russia, and selected Wrestling, Baseball/Softball, and Squash as the list of sports to be considered for inclusion in the 2020 Olympics but that doesn't mean they will be as the IOC is looking for sports it believes are more appealing to the young and TV so it can make more money.
Wrestling is the oldest sport known to man. Wrestling is an original Olympic sport. Millions of people compete in wrestling worldwide. 179 different countries have FILA affiliations. 79 countries sent participants to the 2012 Olympic games. Athletes from 29 different countries received Olympic medals at the 2012 Olympic games. An Olympic medial is the ultimate goal for a wrestler.
The finals, for all weight classes and styles, will be staged at the International Olympic Academy and shared via livestream on the official FILA Facebook page at https://www.facebook.com/fila.official In addition to the matches, wrestlers will have the opportunity to walk the grounds of Ancient Olympia, including the Palaestra and the Stadium at Olympia.
Both of these locations hold significant meaning to the sport of wrestling, as heroes of the sport, such as Milo of Croton, have stepped foot on the very same ground.
Wrestling Gear