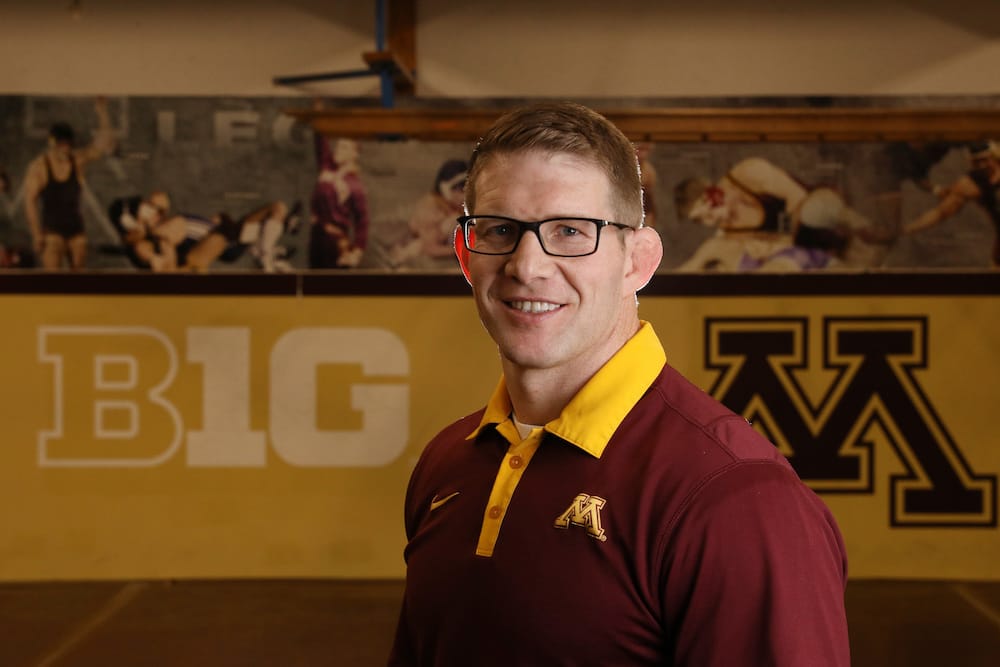 University of Minnesota wrestling head coach Brandon Eggum was named Amateur Wrestling News' "Rookie Head Coach of the Year" on Tuesday, an award that not only recognizes Eggum's leadership and guidance this past year but the hard work and successes of his coaching staff and his young wrestlers.
By many of the expectations placed on the Gophers prior to the start of the season — save maybe their own — Minnesota over-performed throughout Eggum's first year as head coach. The team qualified nine wrestlers for the national tournament, putting four on the podium and two into championship matches to earn a seventh-place finish as a team. No Gopher team in program history has finished higher at NCAAs under a first-year head coach than Eggum's group did this year.
During the regular season, Minnesota produced a pair of fourth-place team finishes at the nation's best in-season tournaments — the Cliff Keen Invitational and the Southern Scuffle — picking up three individual championships and a collection of top-eight finishes from its wrestlers in those two events.
Away from the mat, the Gophers are wrapping up an exceptional year in the classroom as well. Nine Gophers were named Academic All-Big Ten last month, the highest total for the program since 2014, and five were recently named All-Academic by the National Wrestling Coaches' Association (NWCA), the highest total in program history. As a team, Minnesota was the top academic program in the Big Ten according to the NWCA.
Though this was his first year leading the program, an obvious requirement for a Rookie Head Coach of the Year award, it was certainly not Eggum's first as a coach. He joined the staff shortly after graduating from Minnesota in 2000 as a three-time All-American, national finalist and four-time Academic All-Big Ten honoree majoring in applied economics. This season was Eggum's 17th on the staff at Minnesota.
Wrestling Gear