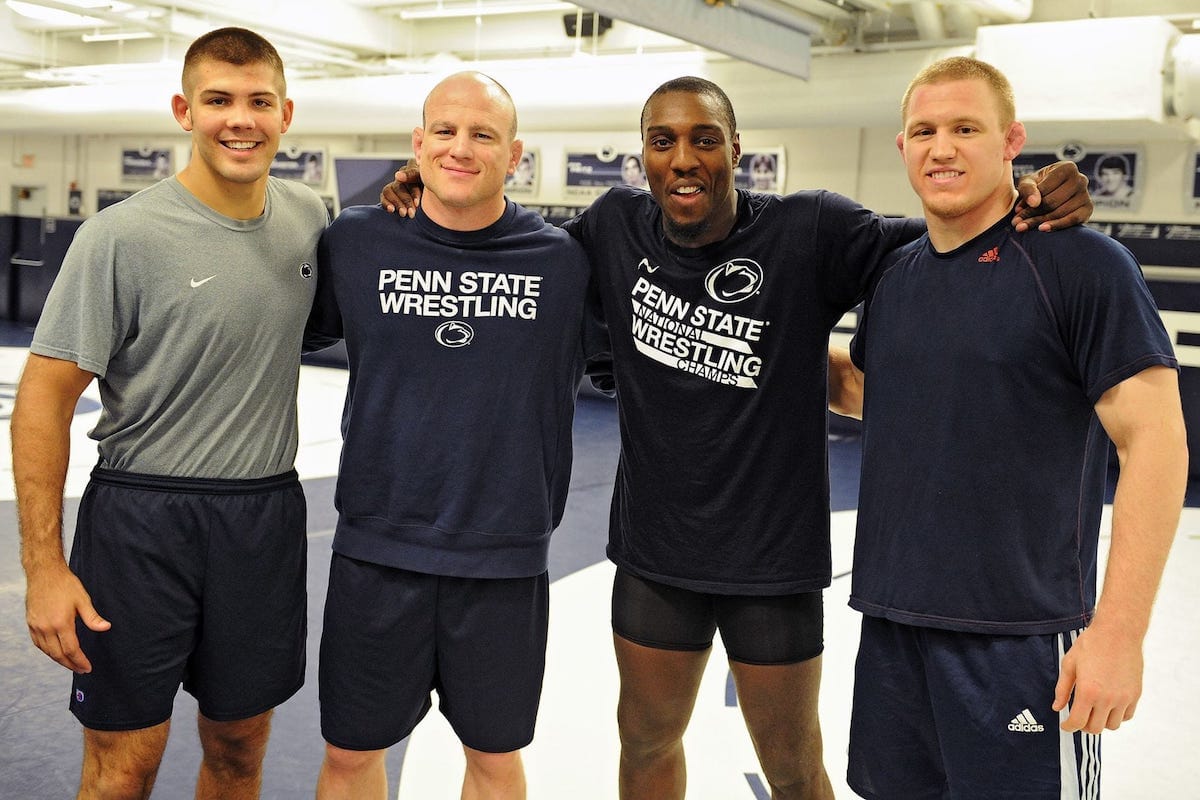 The wrestling dynasty at Penn State should look familiar to Hawkeye fans.
by J.P. Scott
I remember sitting in the seats of the Qwest Center (now the CenturyLink Center) in Omaha in 2010, watching as the Iowa wrestling team gathered on the mat at the conclusion of the 2010 NCAA Wrestling Tournament to take a team photo commemorating the national title the Hawkeyes had just won.
It was the third consecutive national title won by the Hawkeyes at the time and the 23rd in program history. That's 23 national championships in one sport between 1975 and 2010. But there hasn't been one since.
On the surface, for nearly any other collegiate sports program outside of Storrs, Connecticut, and Tuscaloosa, Alabama, a seven-year drought without a national championship is not cause for concern. For Iowa wrestling, however, it's beginning to become an increasingly larger elephant in the room.
That night, as I watched the Hawkeyes pose with their trophy, I remember thinking to myself, "Everything is about to change."
Cael Sanderson had just finished his first season as the head wrestling coach at Penn State. He didn't have his own recruits yet, and he had just come from Iowa State – his alma mater – where he had moderate success as a collegiate coach.
Now, however, the seeds were planted. The biggest star in the modern history of the world's oldest sport had just planted his flag on the campus of the premier school in the state with the most sought-after high-profile wrestling recruits.
That last sentence should look like Deja-vu for those of you familiar with the history of Iowa wrestling. It's a lot like the scenario that played out when Dan Gable took over in Iowa City in 1976. Gable was, at the time, wrestling's biggest star, and he was taking over the program that had just won the last two national titles. There was no building an empire. Gable was the empire, and the top wrestlers from around the country flocked to him, in a small college town in the middle of a state full of corn.
That's the scary part. At Penn State, Sanderson has the same power and attraction Gable once had, but in a state where he could dominate the sport simply by locking down his borders.
Consider this: Of the 320 wrestlers who competed at the 2015 NCAA Tournament, 48 of them hailed from the Keystone State. Don't pull out your calculator, I got this — that's 15 percent. And that's pretty good. Additionally, since Sanderson took over at Penn State in 2010 through 2016, the state of Pennsylvania produced 87 NCAA Division 1 All-Americans. Nineteen of them walked to the podium in Penn State warm-ups. Seven of those were national champions.
In 2017, Sanderson led the Nittany Lion program to its sixth title in seven years and added five individual champions to the list. During the lone season in that stretch where they failed to take the crown – 2015 – Sanderson redshirted two of his best wrestlers in the middle of their careers.
Basically, outside of UCONN women's hoops, Penn State wrestling is the most dominant collegiate sports program in the country – just like Iowa used to be. Also like women's hoops is the fact that there are only a handful of schools every year with a shot at winning the title in wrestling. Yes, Iowa is still in that conversation, but only on a rotational, off-hand basis with the likes of Ohio State and Oklahoma State. When Penn State doesn't win, it's still an upset.
Honestly, as long as Cael Sanderson is at Penn State, I don't see this trend changing. His status, his location and now his ever-improving résumé allow him to essentially have pick of the litter in recruiting – both nationally and in his own talent-heavy state. Like Gable, Sanderson doesn't need to do much to sell himself or his program to kids. It's all right there, fresh in their minds, as the only real empire they know.
In the meantime, with every year that passes without Iowa on top of the wrestling mountain, Hawkeye coach Tom Brands must rely less and less on the empire and legacy that Gable built and more on his salesmanship. Those 23 trophies in the case are a thing of beauty and a definite source of pride for Hawkeye Nation. But their recruiting power decreases with every day that passes and every title that Sanderson wins.
What you don't want to do is start a revolving door of coaches like you might see in football or basketball, in order to get back to where you need to be. That would be silly, as Tom Brands is still one of the elite coaches in the sport and Iowa is still an elite program.
So what can be done? Honestly, not much, outside of a change in mindset. Hawkeye wrestling was once the standard in the sport. That's simply not the case anymore, and Cael Sanderson is why. That won't change at least until he's gone, and that day isn't coming anytime soon. The answer for Iowa wrestling and its supporters is to keep grinding, yet stay content to a certain degree with the current state of affairs of the program.
Iowa is still a contender and a threat to win the national championship every year. Given the empire that has been built in Happy Valley, that's as good as its going to get for now.
Does Iowa have a Sanderson problem? Absolutely.
But so does everyone else.
Wrestling Gear