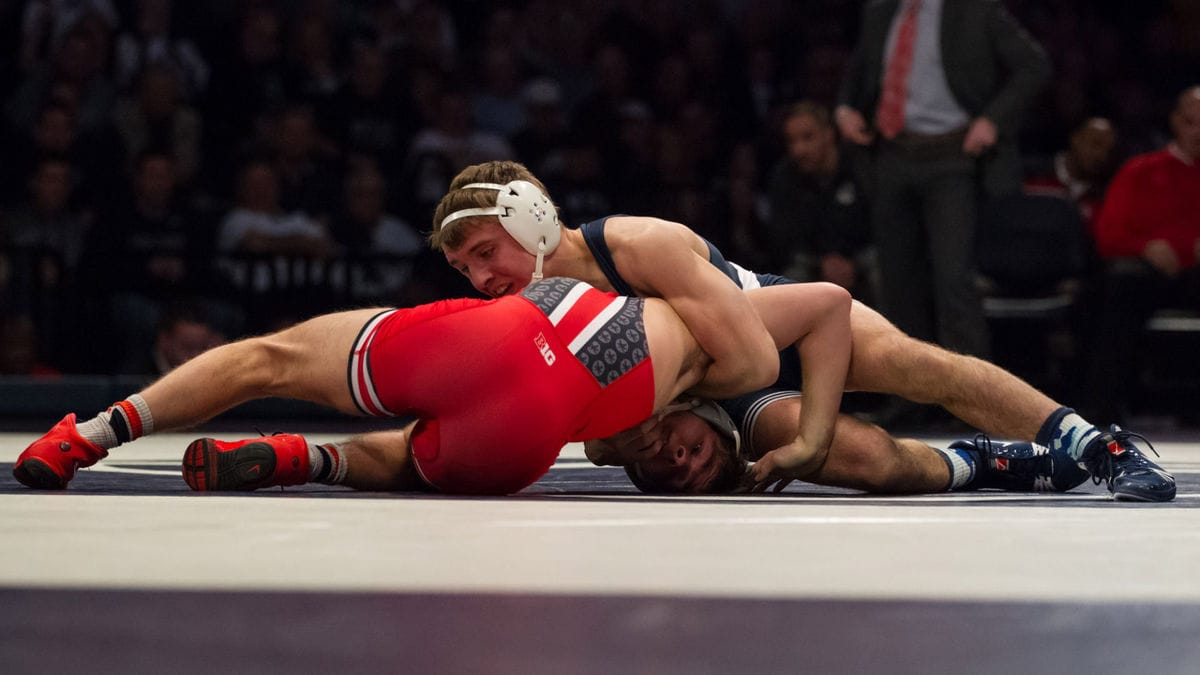 Zain Retherford's father didn't think the sport of wrestling was meant for his son.
At least not at first.
Retherford's father, Allen, still remembers Zain sobbing uncontrollably at the age of 5 when a much bigger kid pinned him in almost no time at all. "He came up on the bleachers and he was crying," Allen said. "I didn't like that. I figured that it's not for him. I said, 'The sport's not for you; you're going to quit. We're not doing this.' "
Quitting, though, isn't part of the Retherford family genes. The family owns a farm in Benton and usually works from sun up to sun down. That mentality kept Zain Retherford motivated to get better at a sport he came to deeply love. It motivated him to transform himself from a once-frail grade-school athlete into a muscular college student whose trophy case is already bursting with honors such as the NCAA Most Dominant Wrestler award and the Hodge Trophy, which is regarded as the wrestling world's Heisman.
Retherford couldn't quit wrestling for good, even as a distraught preschooler, but it was a long road to success — starting with those tears when Retherford's best effort wasn't enough.
Five years after that incident, when Retherford turned 10, a stranger approached Retherford's father at a tournament and told him to get Zain to the Nittany Lion Wrestling Club — about a two-hour drive down I-80 — to train with Ken Chertow.
That summer, Allen signed Zain up for a one-week camp. That's when the story of Zain Retherford, arguably the most dominant wrestler in any college weight class, truly began. That's when Zain discovered he had a knack for the sport he loved. With a little training, he grew into a nearly unstoppable force.
"Coming into that season, I saw stuff," Allen said, alluding to the winter after his training. "I was like, 'What is that?' The legs started. The competitive dad-on-dad thing started. I started getting sized up. I didn't intend on it, but when a 10-year-old kid rips the face off another 10-year-old kid, it's war."
That kind of dominance never truly went away; it just grew. A year later, Zain finished seventh at the Pennsylvania Junior Wrestling state tournament after losing to the defending champ by one point in the first round. From that point on, Zain didn't want to stop training until he reached state champ status.
Before he was even a teenager, Zain would hit the floor three times a week and perform 50 push-ups. He was admittedly weaker than most of his opponents, and he swore that wouldn't always be the case. Eventually, he worked his way up to 1,000 push-ups three nights a week.
"It's tough to break Zain Retherford," said one of Zain's high school coaches, Russ Hughes. "His mental toughness is by far one of the best I've ever seen."
His work ethic was clear on the mat. As a high school freshman at Line Mountain, he went 40-1 and won the state title. He finished third his sophomore year and then faced adversity his junior year when the PIAA forced him to miss the entire season after transferring to Benton.
"He paid the ultimate price," said Hughes, the Benton coach. "I took him under my wing and said, 'You are going to sit beside me every dual meet and every match, so you are going to study the sport.' "
Retherford did exactly that. According to Chertow, he became "an encyclopedia of wrestling." He used that learning to his advantage.
As soon as he was reinstated by the PIAA, that much was evident. He reached the finals of the Super 32 tournament, won a Fargo (N.D.) Junior National title and punched his ticket into the USA Junior World Championship team by winning the FILA Cadet National Tournament. To top it all off, he then won a FILA Junior Cadet World Championship.
"He trained extremely hard for that," Hughes said. "If you asked his parents, it was probably border-line abusive for a kid that age — but he wanted it. I treated him like a college kid. Those workouts were extremely tough for a high school kid. I think he may have shed one tear out of his eyes."
Hughes said his phone started ringing — and wouldn't stop — soon after that world title. College coaches, such as Oklahoma State's John Smith, wanted a word with the small-town kid with the big dreams. Iowa coach Tom Brands even popped up in the small Pennsylvania town when it celebrated Zain's world title.
"We had a float for him. Basically, you get on a fire truck and you go around town and blow the horn," Hughes said. "I look over and I see Tom Brands and his assistant standing on the corner. I'm like, 'What are they doing in town?' They met with Zain that night."
Zain was just getting started. He then went on to a 47-0 senior year of high school and his second PIAA title. Then he took his talents to Happy Valley. That's when he became a household name among wrestling fans in the Keystone State.
"I love this place," Zain said, referring to Centre County. "This is like a second home to me. When I'm at my house in Benton for too long, I get antsy and I'll come back here. … I'm glad I'm at a place where it feels that way."
The rising senior is currently on a 67-match win streak after going undefeated the past two years. His recent victory in the NCAA finals — his second straight title — marks 100 wins overall for his Penn State career.
Retherford has lost just three matches to those 100 victories. And all three came during his rookie campaign. Four-time NCAA champion and Hodge Trophy winner Logan Stieber can say he's the only person so far to beat Retherford twice in college — although Retherford shocked the champion in the Nittany Lions' dual with Ohio State in 2014. Retherford's last loss — and possibly final loss of his Nittany Lions career — came to Centre County's Mitchell Port.
"I don't know what the secret is. He's a tough kid," said Port, who edged Retherford 3-1 in the 2014 NCAA championships and finished third for the Edinboro Fighting Scots. "Even then, it was hard to beat him and that was three years ago. He just keeps getting better, it seems like.
"I see him out there against those other guys, and he looks like a monster. Maybe that's just because I see him winning and beating up on everybody."
As Retherford enters his final season with Penn State, he looks to collect his third straight NCAA title and possibly his second Hodge Trophy.
Not bad for a guy who almost quit the sport when he was 5 years old.
BY NATE COBLER
Wrestling Gear