Wrestling has been referred to as the sport of the gods. So it should be a great idea for your kids to start it right? With the rise in popularity of combat sports such as MMA and fight leagues like the UFC (Ultimate Fighting Championship), wrestling has been seen as a cornerstone of the sport and with good reason, wrestling has proven to be a very effective grappling technique that has produced hundreds of champions over the years.
It should be no surprise to you when your kid comes into the den one afternoon and tells you that they want to join their schools wrestling program. Wrestling is taught in almost every high school sports program and there are thousands of Youth wrestling clubs all across the country.
Getting your kids started in a wrestling program is a great idea for a multitude of reasons, let's look at what you can expect from getting them involved in the sport at an early age.
As we mentioned, wrestling is not really offered in many junior schools. So if you child wants to start, you will need to find a solid, reputable youth wrestling club in your area. Begin with a google search and find out the club that looks suitable for your kid, then arrange an interview with the school's head instructor.
During the interview make sure to ask about their experience coaching kids and the different coaching styles that are used between teenagers and youths. If you are satisfied with the response, then it's time to bring your kid along to class. Stick around for the first two or three practices, a child is always more motivated to try their best when their parent is around and you will be able to see how the dynamic of the class operates.
If you kid takes to wrestling and sticks with it for his junior and senior education, you can expect some pleasant results from all their hard work.
Physical Strength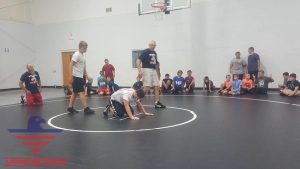 Wrestling is a demanding sport that requires dedication and repetitive practice to learn the skillset needed to be effective on the mats and in wrestling matches. The training for the sport involves a lot of calisthenics; push-ups, pull-ups, sit-ups and jumps are all part of a solid wrestling fitness program.
A good coach should push the kids through their workouts, demanding the best from them, while encouraging them to keep pushing their limits. The coach is the crux of the entire team, so it's important to make sure your kid is learning the game under a good coach that keeps practice fun and keeps the kids coming back for more.
All this exercise leads to stronger muscular and cardio-vascular systems in the youth wrestlers and helps them develop their bodies, setting the foundation for their development in the years to come all the way till they finish their college education
Teamwork
While wrestling may be an individual sport when it's time to set foot on the mat, it's very different in the training and support system it offers. Wrestling teams are bound together by their efforts in the wrestling room and brought together by their successes and failures on the mats.
The team is what helps them through practice and motivates them to train when they may be having a bad day. In essence, the team is everything in wrestling, and this teaches kids great social skills as well as responsibility needed to go to practice every day, accountability for their actions and a sense of belonging to a group whose cause is greater than their individual goal.
Mental Discipline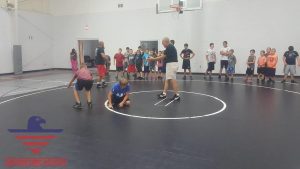 Possibly the most important character trait that is developed in youth wrestlers, is their mental discipline. The hours and hours of practice and repetition, establish commitment within the child that breeds a desire to be great. Not only that, but the metal fortitude and positive attitude that comes from the right team and coach, can assist them in their later years, turning them into well-adjusted, young people who understand the importance of hard-work and discipline, something that is quickly disappearing from youth populations in the western world.
In wrestling, you earn your respect, nothing is handed to you unless you deserve it. This teaches kids to earn what they need and that hard-work and great attitude gives way to success, this is true in life as well as on the wrestling mats.
Conclusion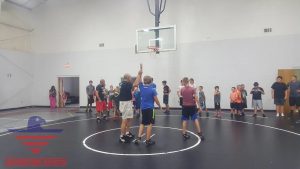 Wrestling may appear as a violent sport to many parents and protection of their child is important to them. We can fully understand that but do not shy your child away from taking up wrestling because they may be injured. Wrestling is no more dangerous than any other sport and provided it is taught and executed in a safe environment by a competent coach, you should have very little to worry about.
For developing youths, life is all about challenge and support in their lives. If you shelter a child and offer no challenges, they will not grow as human beings, conversely, if all they feel is challenge, they will regress into failure. The correct balance of support and challenge is what helps youths grow into well-developed young adults and wrestling is the perfect sport to achieve this with.
Post via McBryde Mats
Wrestling Gear