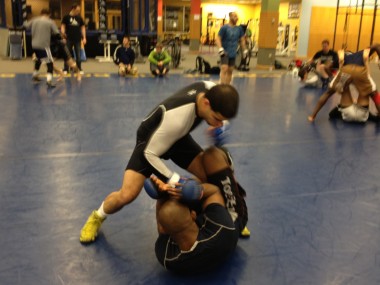 The path that led Ryan Ciotoli to mixed martial arts began at Ithaca College, where after a standout high school career at Union-Endicott, he would graduate in 2002 as one of the most successful wrestlers in school history.
Despite missing the majority of his senior year because of an injury, Ciotoli amassed 90 victories to just 22 defeats for the Bombers, twice making it to the finals of the Division III NCAA Tournament.
After graduation, Ciotoli stayed on as an assistant wrestling coach at Ithaca until 2008 and began learning mixed martial arts.
He started an intramural mixed martial arts club at the school and, in 2006, the club morphed into Bombsquad. The team of local fighters was based in Cortland, as Ciotoli says, out of his garage.
One of those original Bombsquad members was a relatively unknown fellow Union-Endicott graduate, Jon Jones, who is now the reigning UFC Light Heavyweight Champion and is more commonly known as "Bones." Jones, an Ithaca resident and the first mixed martial arts fighter to be sponsored by Nike, is scheduled to defend his title at UFC 152 on Sept. 22 in Toronto.
Ciotoli even stepped into the octagon himself back in the early days of Bombsquad, traveling with the team to professional events in neighboring states, a necessary inconvenience after the New York State Legislature banned live professional mixed martial arts fighting in 1997. Advocates of the ban object to the brutality of the sport, although New York remains one of just five U.S. states to uphold such a ban.
"The adrenaline rush is 10 times what a wrestling match is," Ciotoli said. "You're going into a cage and basically looking to whoop each other."
In 2010, Ciotoli moved Bombsquad " derived from Ithaca College's nickname " to South Meadow Street in Ithaca, where the name and concept for Ultimate Athletics originated.
"It's Bombsquad but it's the general public version," Ciotoli said. "Obviously with the name Bombsquad it would be hard to get members of the general public to come in and try out some of the styles that we offer. We're kind of a mixture between a martial arts and fitness school. If you're looking to get in shape and do it in a fun way, that's what we offer. "
On Jan. 2, Ciotoli relocated the entire operation again, this time to the The Shops at Ithaca Mall, taking the place of the Borders book store. Ciotoli says the new location, which holds two 24-foot hexagon competition-style cages, a 20-foot professional boxing ring, more than 3,000 square feet of mat space and a weight training area, "fits our space a little better."
On top of accommodating approximately 300 students and the 35 professional and amateur fighters Ciotoli manages as part of Bombsquad, Ultimate Athletics has hosted a number of amateur events already this year, including the Fortune Fight League, amateur boxing and professional powerlifting tournaments.
Despite the facility, what Ciotoli says "makes" Ultimate Athletics are the people who work there. His staff includes a number of former and current professional fighters, all with extensive résumés.
Alex Stewart, Ultimate Athletics' boxing instructor, has a career amateur record of 78 wins and two losses. Primo Bellarosa, Ciotoli's muay-thai instructor, has a professional record of 13-1 and has represented the United States at the World Championships in Thailand. Not to be outdone, Brazilian jiu-jitsu instructor Rene Nazare-Azevedo, who moved to the United States from Brazil in 2007, is a four-time World Champion in his discipline and has a 10-2 professional record in the Bellator Fighting Championships, one of the world's largest mixed martial arts organizations.
"You have to get to know these guys to realize that they are teaching at a pretty high level," said Ciotoli of his trainers, who work with both Bombsquad athletes and regular students. "The general public gets basically the same instruction that our fighters do, without the sparring. Anyone can come in, learn a technique and get a good workout doing it."