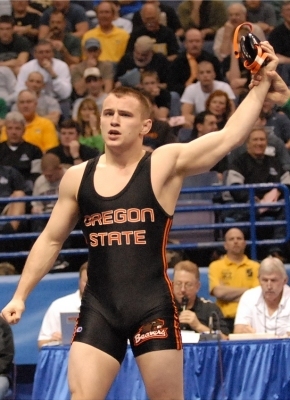 CORVALLIS, Ore. "Amateur Wrestling News has released its preseason Division I rankings for the 2012-13 season and a total of six Oregon State wrestlers can be found on the list. The half-dozen Beaver student-athletes are broken up among the top-20 within their individual weight class, with reigning All-American Mike Mangrum the highest rated OSU wrestler at No. 2 in the 141-pound group.
The second-highest on the list comes in the 149 weight class, as fellow 2012 All-American Scott Sakaguchi is listed at No. 7. Next up is senior Chad Hanke, who is ranked 10th in the nation at 285 pounds. Following Hanke is a pair of Beavers at No. 12, with junior RJ Pena in the 157-pound weight class and sophomore Taylor Meeks in the same slot but at 197 lbs.
Sophomore Pat Rollins is the sixth and final Oregon State wrestler on the list as the sophomore comes in at No. 14 on the 125 pound list.
With the graduation of Clayton Jack, OSU returns two of their three All-Americans from a season ago. Jim Zalesky's crew officially begins practice for the 2012-13 season, Thursday in Corvallis.
Wrestling Gear