ConU Olympian David Tremblay Says Goodbye to University Wrestling After Half-Decade in Maroon and Gold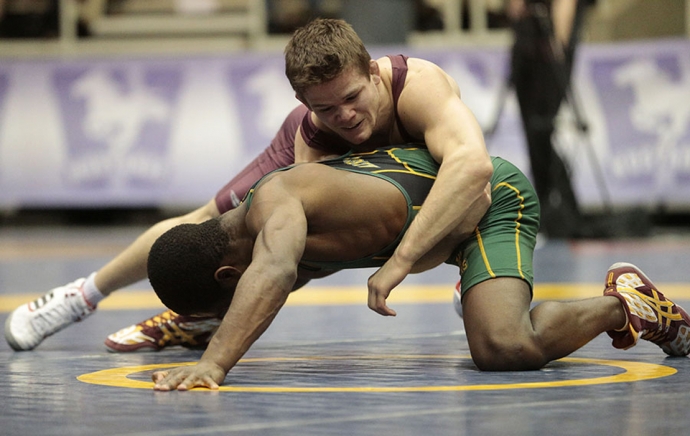 If you ask any wrestler on Concordia's varsity team about their teammate David Tremblay, the words "leader" and "role model" are never very far from their lips.
Now in his fifth year with the Stingers, Tremblay is one of the most successful wrestlers in the team's storied history.
Last summer, Tremblay represented Canada at the London Olympics, finishing 14th in his weight class after a difficult draw in the tournament.
Earlier this month, Tremblay won his fifth consecutive gold medal at the Canadian Interuniversity Sport Championships in London, ON"making him only the third wrestler ever to win gold in each year of eligibility for the, CIS. Tremblay was also named Outstanding Male Wrestler of the tournament.
Now, as Tremblay is finishing up his last semester at Concordia and his sparkling Stingers career comes to an end, his teammates and coaches are contemplating life after David.
"We'll have to find another David Tremblay"and that's not easy," said Rob Moore, assistant coach of the Concordia wrestling team.
"There's always a rebuilding period," Moore continued. "That's the nature of university and high school sports."
As it stands, Tremblay plans to take at least a year off competitive wrestling and to look for a job closer to his native Stoney Point, ON.
"It's definitely sad to leave, and I'm only 25 so everybody wants me to stay," Tremblay said. "However, I want to see what I can offer myself in different fields."
Tremblay isn't the only veteran wrestler graduating this year: two-time national champion James Mancini is also weeks away from moving on after a long and successful career with the Stingers.
At this year's, CIS, championships, Mancini came back from a defeat in the first round to snatch a bronze medal in the 65 kg category, scoring points that would help the team finish fourth overall.
Although the varsity team is losing two of its best wrestlers next year, a few of the younger wrestlers coming back look to have the potential to reach similar heights.
Completing his first year with the Stingers, Jordan Steen won every match in the opening rounds of the, CISchampionship"and inflicted a 4-2 and 7-0 bruising on his opponent in the finals.
Asked if he would be ready to fill Tremblay's shoes, Steen, who was named Rookie of the Tournament, replied humbly.
"Fill them? I don't know about that. I'll try. But Dave's great"you can't replace that guy.
"I'll definitely try," he added. "Somebody's going to have to."
A Family Matter
If anyone is feeling the weight of expectations to live up to David Tremblay's success, however, it's probably his younger brother Noël.
Back in form after having surgery on his wrist in June and missing most of the season, Noël won his first match back at the, CIS, tournament, finishing sixth overall.
At the Canadian Amateur Wrestling Association's junior national tournament before his injury, Noël just missed out on a place on the podium.
This season, he hopes to win the competition"taking place in Fredericton, NB from March 20 to March 24″which would mean a trip to the world championships.
After attending the Olympics last summer as David's training partner, Noël aspires to return as a competitor.
"It's tough, though," he said. "I realized how hard it is. I still have a lot of work."
Although he shows no sign of struggling under such high expectations, Noël says he feels a lot of hopes are pinned on him.
"My parents don't say there's pressure, but I kind of feel pressure," he said. "Even if not from my parents, but from the rest of the wrestling community. When you see a wrestling family, you say the family's good. And if one person doesn't do too good, he kind of sticks out, you know?"
"We'll have to find another David Tremblay"and that's not easy."
"Rob Moore, Concordia Wrestling Team Assistant Coach
Indeed, Noël and David's father, David Tremblay, Sr., was a nationally ranked wrestler in his day and has been coaching wrestling at L'Essor High School in Tecumseh, ON for 27 years.
Still, Tremblay says it's still too soon to tell who will take his place as the leader of the wrestling team after he graduates.
"It's hard to say who will be the next leader leader," he said. "Everybody's a leader because they all want success. I can't really say who will be a leader"I'd like to say my little brother."
Coaching It Along
In addition to praising David Tremblay's performances on the mat, many of his teammates spoke highly of the guidance he provides them in training.
Linda Morais, the only wrestler from Concordia in the women's, CIS, championship this year and winner of the gold medal in her weight class, said she owed much of her success to her practices with Tremblay.
"All year I've been training with Dave and he's been coaching me completely differently than what I was used to last year," she said. "My practices are a lot more intense. That's all thanks to Dave, because he took me under his wing."
Morais has very high expectations to live up to herself, wrestling in the shadow of national champion Veronica Keefe, as well as Olympian Martine Dugrenier.
Tremblay's graduation won't change too much in the eyes of the varsity team's coaches, whose task has always been to get the most out of each wrestler.
Head coach of the team since he restarted Concordia's wrestling program in 1977, three-time, CIS, Coach of the Year, four-time member of the Canadian Olympic coaching staff and 2008 Canadian Amateur Wrestling Hall of Fame inductee Victor Zilberman has seen his fair share of talented athletes come and go"including a number of Olympians.
Alongside Moore, the pair has close to 100 years of coaching experience between them.
"[Moore] started helping me coach [in 1987] and we became best friends. We're the longest surviving coaching partnership in Canada," Zilberman said.
Asked how he would describe his relationship with Moore, Zilberman said, with a hint of a smile, "Annoying."
"Oh, he's a pain in the neck," Moore joked. "No, we have a good relationship."
For decades now, Zilberman and Moore have raised top-level wrestlers at the Snowdon YM-YWHA, athletics club on Westbury Ave. The varsity wrestling team's practice sessions are open to a variety of athletes of different skill levels whose ages range from 12 to 45.
"Here we have people from world-class to beginners," Zilberman said. "That's very rare in the world, even." In addition to Tremblay and Dugrenier, the list of professional athletes who train at the centre includes ultimate fighter Georges St-Pierre, and Team Canada wrestler Cleopas Ncube.
For all they know, Zilberman and Moore could be training the next David Tremblay right now. Even coaches as experienced as they are, however, may find that replacing a wrestler of Tremblay's calibre will be a tough task.
As for Tremblay, he says there's no doubt that Zilberman has been one of the most important influences on his life.
"I say it over and over again: He's the only reason I came to university. He changed my life, and it's pretty crazy to think that somebody can have such an influence on someone else's life. Hopefully, I'll be able to do the same one day."
Wrestling Gear