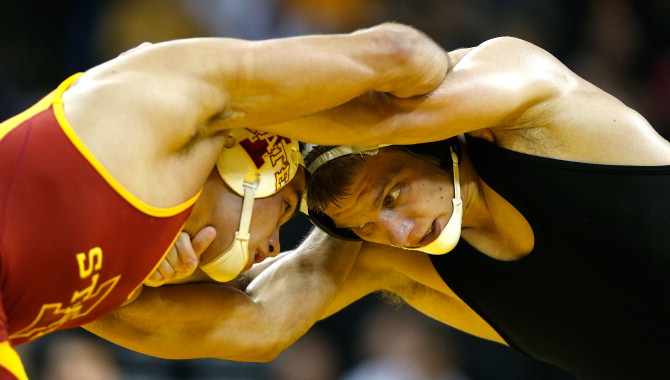 AMES " Iowa State wrestling coach Kevin Jackson sat down and spoke.
Mike Moreno, his sophomore 165-pounder, listened.
"'Mike, you know you've come a long ways in a short period of time,'" Jackson recalled saying on a recent bus trip. "'I mean, can you believe the year we had last year and where we're at now?' He just kind of looks at me and shakes his head and says, 'Coach Jackson, I was in a different place.'"
Not anymore, thanks largely to the mettle-testing journey.
Moreno stands 17-5 entering Saturday's Big 12 dual at West Virginia.
He cut weight to wrestle at 157 pounds last season and got hurt early, quashing hopes of competing in confidence-boosting open tournaments and the prestigious Midlands Championships.
Moreno ended up 4-13, while yielding bonus points in eight of those losses.
"I think it was necessary," the son of 1992 Cyclone all-American Mike Moreno said in retrospect. "I think people need to take those lumps."
Not that they were easy to absorb for the former state champion from Urbandale.
Moreno " whose brother, Gabe, is a redshirt freshman at ISU " stands as one of several Cyclone wrestlers on the rise after enduring rebuilding mode last season.
"If I just follow his lead, I know great things will come for me," Gabe said.
The team-wide growth began accelerating on the heels of a gut-wrenching 32-3 loss Dec. 1 at arch-rival Iowa.
"They weren't tired, they weren't exhausted," Jackson said of his athletes after that match. "They didn't get beat because of conditioning and things like that. We just didn't go out there and lay it on the line and let the chips fall where they may."
Point taken.
The Cyclones (4-3, 0-1) have won three straight dual meets.
Moreno is one of five top-20 wrestlers in the lineup " and also one of seven freshman or sophomores slated to start in Morgantown.
"We're definitely clicking more as a team," said ISU's Kyven Gadson, a sophomore and fellow legacy wrestler tabbed No. 11 by Intermat at 197.
No one's clicking more " in terms of a reversal of fortune " than Moreno, whose dad was coaching Gabe to a state 3A title at 145 pounds last season.
"Everybody's going to struggle," said the eldest Mike. "But everything happens for a reason. And his struggles last year are going to help him out in life. Flat out, it's going to help him."
It already is.
All of Moreno's losses this season have come against ranked foes.
Four of the five were lost be a total of seven points and two ended in overtime.
"The fact that I'm not getting blown out, that was cool for a while, but now, it's not just OK to keep it close," he said. "It's time to be a man. It's time to start getting these Ws."
Clearly, a different "different place" is now in sight.
"His expectation is to be an all-American before his dad was," Jackson said.
And?
"My goal isn't just to be on the podium this year," Moreno said. "It's to win it this year. It's above and beyond and that's how it has to be."
Same goes for Gabe.
It's how dad wants it to be.
"They're ahead of where I was," Mike Moreno said of his sons. "And I'm proud as hell about it."
Wrestling Gear