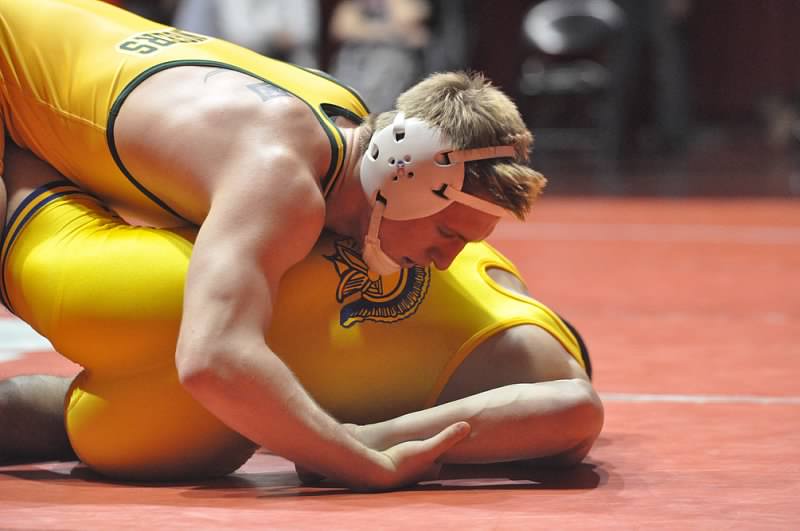 JOHNSTOWN " Cody Law always dreamed of wrestling for one of the nation's top college programs.
Up until the past year or two, it looked like just that: A dream.
The Forest Hills wrestler hadn't even qualified for the state tournament until last season.
But a combination of hard work, dedication and an absolute hatred of losing has helped turn Law into not just one of the best 160-pounders in the state, but in the nation.
This week, he made his dream into a reality, as he gave a verbal commitment to Penn State coach Cael Sanderson. The senior plans to join the two-time defending national champion Nittany Lions in State College next season.
"It's like a dream come true, honestly," Law said. "A year or two ago, I never would have thought I'd be wrestling for Penn State."
Law, who is ranked 14th nationally at 160 pounds by flowrestling.com, finished second in PIAA Class AA last season and has his sights set on a state title this year. He recently placed fifth at the prestigious Super 32 event in Greensboro, N.C. He also was a double All-American in freestyle and Greco-Roman in 2011.
Forest Hills coach Jake Strayer, who was an All-American for the Nittany Lions in 2007, has seen the huge strides that Law has made.
"Cody's been working extremely hard the past few years. In ninth grade "¦ I think he finished a little bit above .500. He just stayed after practice, kept asking questions, going to Young Guns (wrestling club), going to the extra camps "all of the extra stuff in the summer. He made himself good."
And Strayer is convinced that by working out with some of the top wrestlers in the nation on a daily basis, Law can make himself even better at Penn State.
"He's not the most athletic, but he's making big jumps every year and improving," Strayer said.
"Compared to other guys, he's improving so fast. Hopefully he'll end up peaking when he's in college."
Law plans to keep the same outlook at Penn State as he has now.
"I'll take advantage of everything I get there," he said. "I'll bust my butt, just like I am in high school, busting my butt to become a state champ."
Part of that is having Sanderson, who is the biggest name in amateur wrestling today, as a coach. Sanderson went 159-0 in college and won four national titles. He added an Olympic gold medal before finding success in the coaching ranks. In his three seasons at Penn State, Sanderson has led the Nittany Lions to a pair of national titles.
So what does it mean to Law to have such a legend as a coach?
"Honestly, it would mean just as much to have him as the rest of the coaching staff," he said. "They seem like they all will play an equal role in making me better. It's awesome to have an Olympic champion and one of the biggest names in wrestling history, but I also feel that coach Casey Cunningham, coach Cody Sanderson and the rest of the coaches will play a big role."
Law, who is the son of Trevor and Crystal Law of Elton, has not yet decided on a major, but is considering sports medicine.
He chose Penn State over Division II power Pitt-Johnstown. He also was recruited by Lehigh, Clarion and Old Dominion.
Wrestling Gear