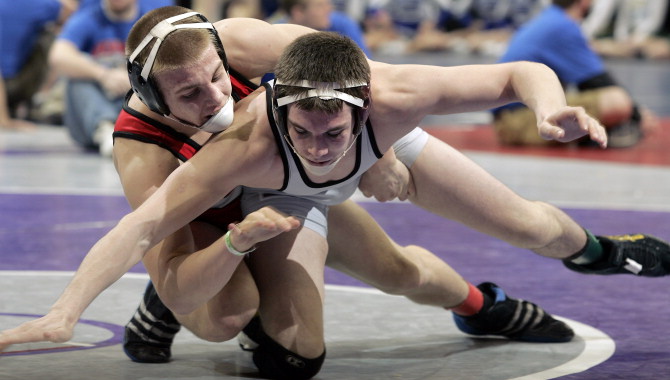 Captain America plans to return, to Iowa City.
Creston-Orient-Macksburg three-time state champion, wrestler Jake Marlin, received the, nickname last year as some Panther teammates referred to each other by, superhero characters. University of Iowa will benefit from his talents in the future.
Marlin confirmed that he orally committed Sunday to wrestle next year for the Hawkeyes and head coach Tom Brands, following an official visit to the campus last weekend.
Iowa wasn't at the forefront of his list as Marlin was considering the University of Nebraska and University of Wisconsin. He was won over during his trip that began Friday and concluded Sunday.
"It just clicked," Marlin said. "It's unlike any place in the world. They have one of the best followings. They are constantly one of the top teams in the nation."
Marlin said his style meshes well with the team and coaching staff.
"I would say," Marlin said with a laugh. "I'm a little bit crazy."
He is a really good, too. According to Creston Coach Darrell Frain, Marlin owns a 148-5 record. Marlin has won Class 2A individual titles at 130, 135 and 138 pounds for the Panthers. He expects to compete at 138 again this season, attempting to become the 22nd four-time state champion in Iowa history.
Marlin said he will wrestle 141 pounds with a possibility of growing into the 149 weight class. He has big aspirations, and considers the Hawkeye wrestling room the place to achieve them.
"I'm planning on winning at least two (NCAA titles)," Marlin said. "That's my goal."
Frain said he thinks Iowa is a perfect for the Marlin. He said former Hawkeye Mario Galanakis has been on the Panthers staff, guiding Marlin. Frain said he has witnessed Marlin's ability to zone in on a feat and never, slow down, until it is accomplished.
"Once he gets a goal he gets focused on it," Frain said. "He puts blinders on and he goes and goes until he
According to Amateur Wrestling News, Marlin was a double All-American at Fargo, N.D., in 2010, placing fourth in freestyle and seventh in Greco-Roman. He said his performance this summer her his stock, dropping him from national rankings, but he is fueled to prove doubters wrong.
"Right now, I'm working hard," Marlin said. "I'm ready to go."
According to AWN, Marlin is the second prep to commit to the Hawkeyes, joining Broc Berge, a projected 197-pounder from Kasson-Mantorville, Minn.
Wrestling Gear