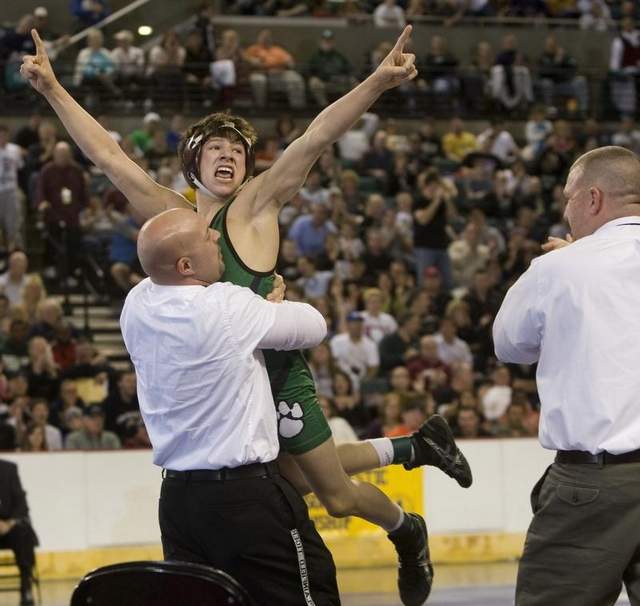 South Plainfield High School senior Anthony Ashnault, who hopes to become New Jersey's first undefeated four-time state champion, has made a nonbinding commitment to continue his wrestling career at Rutgers University.
One of the nation's most coveted scholastic grapplers, Ashnault will take a 130-0 career record into the 2012-13 season.
He turned down scholarship offers from some of the nation's top programs including Penn State, Oklahoma State, Oklahoma and Michigan.
Ashnault, mature beyond his years, informed Rutgers University head coach Scott Goodale of his decision by phone Thursday, only after he contacted the other coaches recruiting him to thank them for their interest.
"It was very stressful," Ashnault said of making an early commitment, which will help him focus on the upcoming season. "I think it will give me a better chance of making history."
Ashnault has won individual state titles at 103, 112 and 126 pounds. He led the Tigers to the state Group III team championship two of the past three years.
NCAA regulations prohibit Goodale from commenting on AShnault until the wrestler signs a National Letter of Intent.
No. 2 nationally at 126 pounds in Amateur Wrestling News' final 2011-12 rankings, Ashnault is following in the footsteps of his older brother, Billy, and South Plainfield head coach Kevin McCann, who both wrestled for the Scarlet Knights.
A three-time NCAA qualifier who graduated from Rutgers earlier this year, Billy Ashnault was named the school's Director of Wrestling Operations in August.
Billy's role with the program was a factor in Anthony's commitment. Ashnault said Rutgers' proximity to home and its academic offerings also contributed to his decision.
"I believe in where they are as a program right now and where they are headed," Ashnault said of the Scarlet Knights, who rose to national prominence in just four seasons under Goodale, being ranked as high as ninth nationally two years ago.
Ashnault will attempt to become New Jersey's third four-time state champion. Delbarton's Mike Grey (158-2 career) accomplished the feat in 2008, while Bound Brook's Andrew Campolattano (175-1) followed suit in 2011.
The only New Jerseyan to finish his career unbeaten with more than 130 wins is current Rutgers redshirt senior Scott Winston, who won three state titles (injury prevented him from reaching a fourth final) and compiled a 137-0 record.
Ashnault's commitment is a coup for the Scarlet Knights, who will have wrestle-offs for the 2012-13 season on Sunday in the College Avenue Gym.
Rutgers was among others receiving votes in the 2012-13 USA Today/NWCA/AWN Preseason Division I Top 25 Coaches Poll, finishing three positions out of a Top 25 ranking.
The Scalret Knights dropped five of their last six dual meets to finish last season with a 13-8 record. They also placed seventh in the EIWA Championships and boasted five NCAA qualifiers.
Of the 14 wrestlers Goodale landed for his 2012 recruiting class, 10 are New Jerseyans.
Wrestling Gear