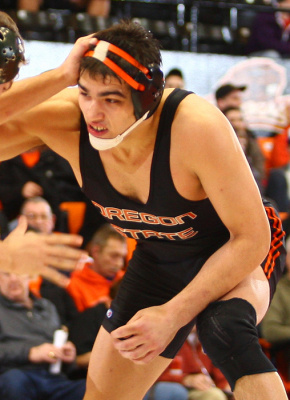 OSU in at No. 9 in D1 College Wrestling's 2012 pre-season poll
CORVALLIS, Ore. "", When the Oregon State wrestling team takes to the mats to begin the 2012-13 campaign, it will do so with a number in front of its name. That's because D1 College Wrestling has tabbed the Beavers as the ninth best team in the nation in their pre-season poll, released Monday.
Last season, OSU garnered pre-season rankings of No.'s 18 and 22 to begin the season, but the top-10 slot it was awarded heading into this year is the highest pre-season accolade the team has received in the, Jim Zalesky, era.
Just ahead of the 'Beavs in D1's pre-season poll is Ohio State at No. 5, Illinois at No. 6, Missouri who is No. 7 and Cornell at No. 8. Rounding out the Top-10 is Virginia Tech as Penn State grabs the top spot, followed by Minnesota (No. 2), Iowa (No. 3) and Oklahoma State at No. 4.
Oregon State enters the 2012 season with a total of seven wrestlers also ranked in D1's individual season poll. Those student-athletes are as follows:, Pat Rollins, (No. 17/125 lbs), Mike Mangrum, (No. 3/141 lbs.), Scott Sakaguchi, (No. 7/149 lbs.), RJ Pena, (No. 11/157 lbs.), Ty Vinson, (No. 18/164 lbs.), Taylor Meeks, (No. 12/197 lbs.) and, Chad Hanke, (No. 8/285 lbs.).
Couple D1's pre-season poll with Amateur Wrestling News' that came out last week and now a total of seven OSU wrestlers have been awarded pre-season individual rankings heading into the 2012-13 season.
Zalesky's squad started participating in open practices last week and will have their first official practice of the season starting, Wednesday, Oct. 10.
Wrestling Gear