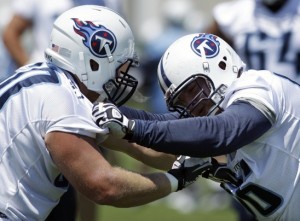 As they wrestle with where to place players on their draft board, one thing that carries value for the Tennessee Titans personnel department is a background in wrestling.
It was apparent in the 2012 draft, which included second-round pick Zach Brown, undefeated (29-0 with 17 pins) as a high school heavyweight in Maryland, and third-round choice Mike Martin, a Michigan state champion as a high school junior. A year ago, one of their most productive rookies was defensive tackle Karl Klug, whose personal athletic history includes plenty of time spent in a mat room.
"It's something that to me, when a guy has been a wrestler, especially when he has been a successful wrestler, it says something about his toughness and his commitment," general manager Ruston Webster said.
The benefits of wrestling for interior linemen " both offensive and defensive " are obvious.
Players attempting to block or shed blocks use their hands, react to the shifting weight of a player with whom they are engaged and try to gain an advantage through leverage. All are central elements to wrestling.
"It's close quarters, and it happens fast, very fast," said Martin, a defensive tackle out of the University of Michigan. "In wrestling, that's all it is. Being able to have leverage, being able to be athletic and shoot on guys and work your hands.
"Especially in the pass rush and even the run, you have to shoot your hands, you have to get guys off of you, and you have to make plays."
Martin's wrestling career was brief " two seasons " and officially ended four years ago when he accepted a scholarship to play college football.
However, he still incorporates the sport as part of his regular training regimen.
"I do some unorthodox training, I guess you could say," he said. "I roll around on the mat at my training facility because it's one of the best conditioning sports you can do. You're in the best shape of your life if you can wrestle live for two minutes. So I try to do that as much as I can."
As a nose guard/defensive tackle at Michigan, he was a three-year starter and a four-year contributor who registered at least two sacks every year.
Klug led the Titans as a rookie with seven sacks last season, which was nearly as many as he had during his entire college career (9.5). If Martin's skills translate to the NFL in comparable fashion, it is opposing quarterbacks who could find themselves pinned more often than they'd like.
"To me, wrestlers do have that natural leverage, and they understand leverage and they understand how to use their hands, and typically they are tough guys," Webster said. "That's why I think that you see it more in guards and centers and defensive tackles."
You don't see it exclusively at that spot, though.
Brown, Tennessee's second-round pick, is a linebacker out of North Carolina who excelled in multiple sports during his prep days. Beyond being a two-way star in football (tailback/linebacker), he also was Wilde Lake High School's first track state champion, with Class 3A titles in the 100- and 200-meter dashes. They followed the state championship he won as a wrestler.
For him, the lingering benefits have less to do with his hands than his head.
"It's just something to push me to see how good I can get, how much better I can get," Brown said. "It is very mental, because you do a lot of movement. Even though you are only in there for six minutes, you do a lot of movement in six minutes.
"So wrestling makes you mentally tough because sometimes I'd be in wrestling matches and I'd be dead tired, but you just have to push through it."
It certainly gives the Titans something to think about.
Wrestling Gear