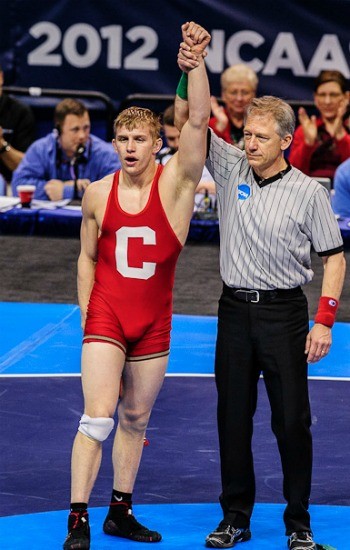 Someday, you'll have to defend, Kyle Dake, or, David Taylor, or, Cael Sanderson.
No, not in a street fight -- I'm sure these guys can more than handle themselves that way -- but in a future discussion of all-time great amateur wrestlers.
You laugh, but... imagine having to make a case for, Dan Gable, vs. some untested high school phenom. A decade ago, this was the topic of discussion on an unofficial state wrestling forum -- "Who'd win, Gable or The Kid? "And, in the thread, the 1972 Olympic gold medalist and near-perfect wrestler at Iowa State was getting trounced by The Kid in a mythical match-up.,  (I'm not naming the young wrestler, because his identity isn't that important to the point of the story... and he had nothing to do with the online discussion.)
Now, it's possible the folks weighing in on Gable vs. The Kid were joking around, picturing a then 50-something, "I've had my hips replaced "Gable going up against some 18-year-old stud on the mat. There are two more likely explanations: 1. Fans have a lack of knowledge and appreciation of all-time greats or 2. Fans think any current wrestler would beat even the greatest grapplers of the past.
This subject came to mind recently after following an online discussion on Twitter between two individuals connected with a major college wrestling program. One mentioned the name of a long-dead wrestler who many historians would consider to be one of the all-time best amateur wrestlers of the pre-World War II era. In the conversation, it appeared that neither guy had any clue about the greatness of the all-time great, with one questioning how you could even compare old-school grapplers to today's best.
That's a valid issue. After all, wrestlers of 40, 50 or 75 years ago competed in far fewer matches in their college careers than collegians of today or ten years ago. (Dan Hodge, three-time NCAA champ for University of Oklahoma in the mid-1950s, was 46-0 in college; Cael Sanderson, 159-0 at Iowa State from 1998-2002.) Today's athletes benefit from better strength training, smarter workouts, more scientific nutrition. Yet, to dismiss the accomplishments of previous-generation college matmen is short-sighted.
This short-sightedness may have been a factor when the NCAA asked wrestling fans to name the all-time great college wrestlers to celebrate the 75th anniversary of its mat championships in 2005. Of the fifteen who made the list, only three competed before 1970: Gable, Hodge, and, Yojiro Uetake, three-time Oklahoma State superstar of the mid 1960s., , In an October 2005 InterMat article about the NCAA 75th Anniversary Team, I wrote that it was possible that voters only selected individuals they had seen in action -- either in person, on TV, or in online videos. (It's hard enough to find college-era action footage of Hodge or Gable on YouTube; next to impossible to see past greats such as, Bill Koll, or, Stanley Henson, online.)
There are a handful of old-star mat stars who seem to transcend time, earning a place of respect even among young wrestlers and fans. Dan Hodge and the late, Doug Blubaugh, immediately come to mind... perhaps because they had remained connected to the sport via appearances at wrestling camps and tournaments.
Wrestlers and fans use the phrase "oldest and great sport "to describe the activity they love. Yet, too many of them demonstrate an ignorance of the individuals that made the sport so great... and laid a foundation for today's coaches and competitors. Some day, today's greats will be dismissed with comments such as, "His opponents were weak. "You will know otherwise, and you will have to defend Dake, David and Cael against this ignorance. Sadly, there aren't many around to put in a good word for Bill Koll or Stan Henson or their brothers of decades ago.