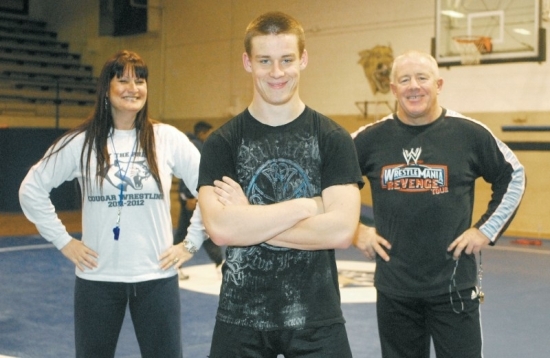 The Finlay family casts a large shadow whenever the Newnan wrestling team rolls out the mats.
Led out on the floor by Cougar senior David Finlay, a 2010 state qualifier and team captain, the Finlays have become the first family of wrestling at Newnan High School through their dedication and love for the sport.
For mother Mel, and father David Jr "better known among the pro wrestling world as 'Fit Finlay' in the WWE and WCW, originally from Northern Ireland "it's a way to give back to the community.
Serving as lay coaches also allows the Finlays to put their faith on display.
That faith was at the forefront in 1997 when Mel received some devastating news: a diagnosis of breast cancer at just 27 years old. A battle with the disease ensued, and Mel became a survivor.
Last year, the couple met with Newnan athletic director Steve Allen to begin the process of getting certified as lay coaches, and the couple quickly made a connection with the team.
"We had to take an extensive test in order to become certified, and I was a little worried about that, "she said. "I have never tested too well, and some of the language was different than what I was used to."
Both Mel and David came through the exam with flying colors.
The next thing was to educate themselves about amateur and high school wrestling.
"There is a huge difference between pro wrestling and amateur and high school wrestling, "she said.
When Mel joined the team as a lay coach, she brought her knowledge of fitness and nutrition to the team.
"That was something I was familiar with, "she said. "I knew I could help out in that area."
When Mel first got sick, the Finlays were bouncing back between Europe and the United States as David, who has held more than 20 titles, continued his professional career. The family settled in the Atlanta area shortly after joining Ted Turner's WCW circuit in 1995.
"We got tired of going back and forth, "Mel said. "We knew we needed to start thinking about school (for the kids). We love it here."
Back in Europe for treatment, a rare rainstorm served as a vision for the couple that that Mel was going to get well.
"David was kind of angry with God when this first happened, "Mel recalled. "We weren't really Christians at the time, but he sort of had a vision that God was going to wash it all away."
Mel came through her cancer without radiation or chemo, and she has been cancer-free since her surgery.
"God is amazing, he took everything away,"' she said.
She now serves as a Christian counselor, helping others deal with similar struggles.
The couple's road to becoming lay coaches took some thought.
"I just didn't want to be one of those parents who complains, "she said. "I wanted to be one of those parents that does something about it."
David Jr. brings decades of championship professional wrestling to the Newnan program.
His passion for wrestling, though, goes back to a couple of generations of pro wrestlers, including his father and grandfathers. His sister also is involved in the sport, training the blind to participate in wrestling.
David Jr.'s world-wide wrestling journey has made him a celebrity in the ring and led to winning dozens of titles, including one he currently holds in Japan.
His latest crown came overseas during the Thanksgiving holiday.
"While everybody else was eating turkey, I was eating sushi, and winning a championship, "he joked.
Newnan head coach Tom Everett says he is glad to have them on board.
"They are so dedicated and mean so much to this team, "Everett said.
These days, the family is focused on watching their son conclude his senior year on a high note.
"I have worked really hard this year, "David III said. "I don't party or do things that will distract me. I want to win a state title."
He would also love to see Newnan capture its first-ever Coweta County Wrestling Championship Wednesday night when the Cougars face off with defending champion East Coweta and host Northgate.
"That would be a great way to end my senior year, "he said.
Newnan finished second at the Chattahoochee River Valley Tournament in Bowdon last weekend. East Coweta and Northgate also competed at the event, and Mel is optimistic about a title.
"I like our chances, "she said. "We did really well over the weekend."
After graduating, the younger Finlay plans to enter the family business as a professional wrestler in Japan. It wasn't something Mel was sold on at first.
"I really was pushing for college and education, "she said. "David (Jr.) kind of said some things that really made sense With the way the economy is right now, kids come out of college with degrees and can't get jobs. This gives him a chance to do something he really wants to do."
The Finlays aren't done with amateur wrestling once David graduates this spring.
Their 10-year daughter Alana has won a state title with the Cobras a club team. Nine-year-old son Brogan is also beginning his amateur career with the Cobras.
Wrestling Gear