By Brian Lopez-Benchimol
Of all the bases of martial arts to build upon a budding, MMA, career, wrestling has been one of the truer and more dominant.
Over the years, we have seen a steady increase in the amount of accomplished wrestlers entering the sport today, with some reaching great heights in becoming world champions in their respective organizations.
The NCAA wrestler represents the upper echelon of competitive athletes who have garnered praise from their conferences, often times having been scouted by larger universities due to their obvious prowess.
So, among the world's best MMA fighters today, who came from an NCAA background?
Ben Askren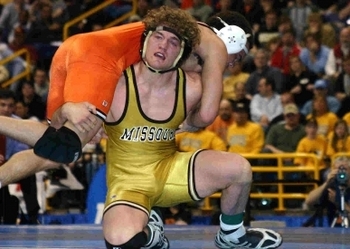 Current Bellator welterweight champion Ben Askren, who recently defeated former UFC and Strikeforce veteran Jay Hieron in the first defense of his title, comes from a long and very prestigious background as an athlete.
Wrestling for the University of Missouri, Askren earned two state titles as a high school wrestler prior to his entry into the big leagues. As a collegiate wrestler, Askren became a runner-up at 174 pounds at the NCAA Division I championships in both 2004 and 2005. He later claimed the title in 2006 and 2007″making him one of the more accomplished athletes to have ever been as successfully competitive.
Askren parlayed his skills toward the 2008 Olympics. Though he came up short there, he has since rebounded with the success he has reached now, becoming an undefeated and highly touted mixed martial artist.
Joe Warren

Current Bellator featherweight champion-turned-bantamweight hopeful Joe Warren has enjoyed a lot of success as an MMA fighter while he is still gunning for a competitive amateur career as a wrestler.
Warren attended East Kentwood High School, where he won two state titles before attending the University of Michigan. His star really shined afterwards.
Warren took gold in two World Cup tournaments before earning first once again in the prestigious Pan American Games in 2006, making him an early favorite in the 2008 Olympic Games. However, Warren failed to qualify for the prestigious tournament after he had tested positive for marijuana in the pre-drug screenings.
He will now look to accomplish the feat that had slipped his grasp in years prior, as Warren will look to compete in the 2012 Olympic Games.
Chuck Liddell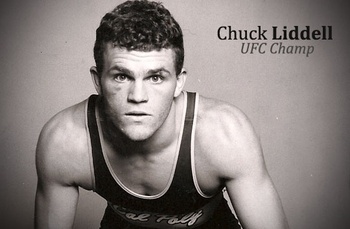 The former UFC light heavyweight champion Chuck Liddell came from a long history of athleticism as a youth.
At the age of 12, Liddell began Koei-Kan Karate and later took up football in high school, become a four-year starter at San Marcos High.
Liddell would later attend California Polytechnic State University, transitioning his skills to the mat, where he became an NCAA Division I wrestler for the school, though he failed to acquire any real title recognition.
No matter, as Liddell has since used his wrestling base, coupled with knockout power, to become one of the most recognized and popular fighters in the world of mixed martial arts. He has since been inducted into the UFC Hall of Fame.
Cain Velasquez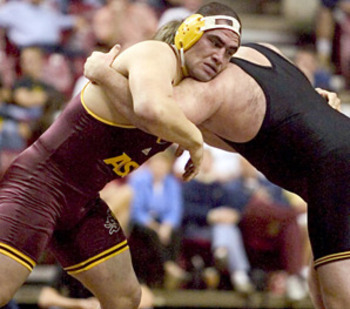 The current UFC heavyweight champion, Cain Velasquez comes from a rich background as a wrestler.
Velasquez took to sports early, as he wrestled all four years at Kofa High School, winning the 5A Arizona Wrestling Championship twice, compiling an astonishing 110-10 record in those formative years.
Velasquez attended Iowa Central Community College, where he wrestled for one season and won the NJCAA National Championship.
The heavyweight great went to the prestigious Arizona State University, where he became a standout early on the NCAA Division I scene, placing fifth in the country in 2005 and fourth in 2006 while compiling an overall record 86-17.
Now, Velasquez enjoys the success of his MMA career, where he remains undefeated and presides as the UFC's undisputed heavyweight ruler.
Matt Hughes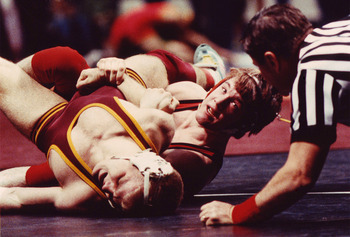 The former two-time UFC welterweight champion built his illustrious career as a mixed martial artist thanks to his extensive wrestling background.
Hughes attended Hillsboro High School, where he became a two-time IHSA Class A State Wrestling Champion at 155 pounds. Next, Hughes attended Eastern Illinois University, where he immediately earned NCAA Division I All-American honors, placing eighth and fifth in his final two years at 157.
Though collegiate titles escaped him there, Hughes has since become one of the more accomplished mixed martial artist to have ever lived.
Randy Couture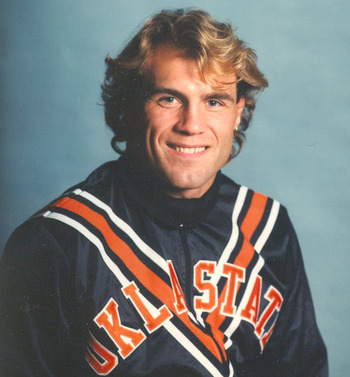 How do you follow after such an illustrious photo like that?
As a youth, Couture wrestled early in life beginning in middle school before attending Lynwood High School, where he became state champion in his senior year.
Couture later attended Oklahoma State, where he became a two-time runner-up for the NCAA Division I championship while earning All-American honors. After his collegiate career, Couture went on to become a three-time Olympic alternate before transitioning to the world of mixed martial arts.
There, Couture first claimed the UFC heavyweight title in just his fourth bout as a professional. Since then, Couture has acquired a total of five titles in the organization"three in the heavyweight class and two as a 205-pounder, a feat that has been unmatched since.
Josh Koscheck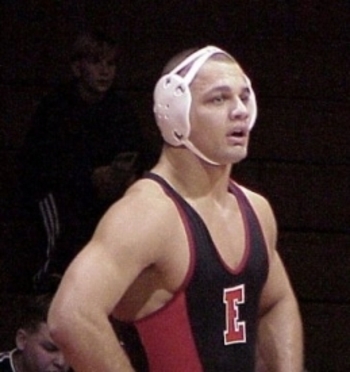 Koscheck comes from a long and rich background as an amateur wrestler and, on paper, was one of the best to enter the Octagon.
Coming into prominence at Edinboro University of Pennsylvania, Koscheck won all of his 42 matches as a junior, going on to become the Division I champion at 174 pounds.
The enigmatic Kosheck earned All-American honors after coming in fourth, second, first and third, respectively, in his four years at Edinboro. His accomplishments helped earn him three PSAC Wrestler of the Year awards while earning the Eastern Wrestling League Achievement Award on two separate occasions.
Since then, Koscheck has been regarded as one of the top-five welterweight fighters in MMA, having defeated the likes of Diego Sanchez, Paul Daley and Matt Hughes in his career, while challenging for a world title in the process.
Kevin Randleman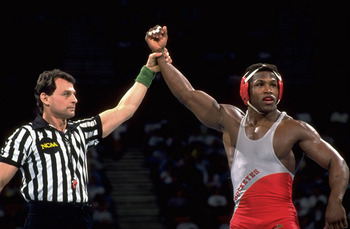 The future UFC heavyweight champion was always a powerhouse, even in his earlier days as a youth.
Randleman attended the prestigious Ohio State University, where he competed at 177 pounds. Randleman became the two-time NCAA Division I champion, earning All-American honors after his incredible and storied run of becoming one of the few men to earn the title back-to-back (in 1992 and 1993) after becoming a runner-up in 1991 as a sophomore.
After his collegiate career, Randleman moved into the world of mixed martial arts, where he first came into prominence in the UFC and became the undisputed champion in just his third bout with the organization.
In his career, Randleman holds notable victories over the likes of former champion Maurice Smith, Pedro Rizzo, Renato Sobral and former Pride great Mirko Cro Cop.
Phil Davis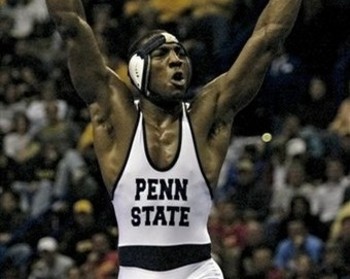 One of the more promising stars in the mixed martial arts world, Phil Davis first built his star on the foundation built as a collegiate wrestler.
He began that career at Penn State, finishing fifth at the NCAA Division I championships in 2007. Davis would later earn the prestigious title in 2008 as a senior, graduating as a four-time All-American while compiling an overall 116-17 record.
Since then, Davis has gone on a tear as a professional mixed martial artist. Davis went on a 4-0 run is less than one year's time before being called up to the UFC, where he defeated former WEC champ Brian Stann in his debut.
Since then, Davis remains undefeated and has gone 5-0 inside the Octagon, with his last bout earning him top-10 status after defeating former Pride star Antonio Rogerio Nogueira.
Shane Carwin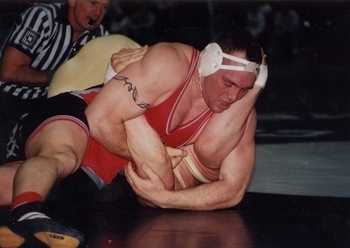 The powerhouse in Shane Carwin first built his base as a collegiate wrestler.
Carwin attended Western State College in 1996, where he became the NCAA Division II runner-up both in 1996 and 1997. Eventually, Carwin earned the NCAA Division II heavyweight national championship in 1999 and later became a volunteer coach for the University of North Colorado.
It was in that area where Carwin linked up with the Grudge Training Center, headed by top trainer Trevor Wittman. Since then, Carwin has earned world recognition, beginning his career with an 8-0 start before making his way to the UFC.
There, Carwin has earned knockout victories over the likes of Christian Wellisch, former title challenger Gabriel Gonzaga and former champ Frank Mir"the latter of which earned Carwin the interim title in the process.
Matt Hamill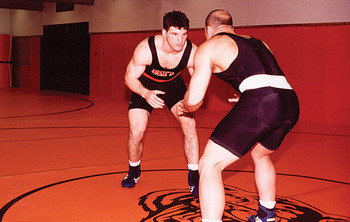 Though Hamill competed on the Division III circuit in his amateur wrestling career, he deserves recognition nonetheless since he accomplished much while being deaf.
Hamill attended Rochester Institute of Technology in 1996. In 1997, 1998 and 1999, Hamill earned the NCAA Division III championship, competing at 167, 190 and 197 pounds, respectively.
Invited to the 2001 Summer Deaflympics, Hamill won a silver medal in Greco-Roman and gold as a freestyle wrestler.
Hamill then transitioned his skills to the mixed marital arts scene, where Hamill joined the UFC on the heels of his stint on The Ultimate Fighter on Season 3. Hamill became a top contender in the 205-pound class, where he earned impressive victories over Keith Jardine, top contender Mark Munoz and former champion Tito Ortiz.
Mark Coleman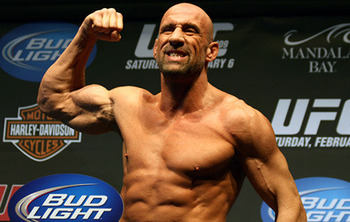 Former UFC champ Mark Coleman, much like all successful heavyweight hopefuls, built his career on his collegiate career as a wrestler.
Beginning wrestling as a teen, Coleman attended Miami University in Ohio, where became the two-time Mid-American Conference champion. In his final year, Coleman transferred to the prestigious Ohio State, where he won the NCAA Division I title and clinched his spot as an All-American athlete.
Coleman earned a spot on the U.S. Olympic wrestling team, placing second at the FILA Wrestling World Championships and seventh overall at the 1992 Summer Olympics.
Coleman would later be labeled as the "godfather of ground-and-pound, "when he transitioned to the MMA scene, winning the UFC 10 Tournament in his debut as a pro in 1996.
Coleman would win the subsequent tournament before becoming the organization's first heavyweight champion by besting Dan Severn with a first-round submission. A subsequent Grand Prix title in the Pride organization built Coleman's star, where he was eventually inducted into the UFC Hall of Fame.
Mark Munoz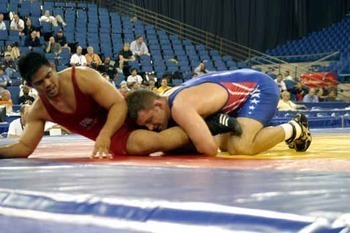 On paper, Mark Munoz could very well be the best wrestler to ever enter the UFC.
Attending Vallejo High School, Munoz earned the California State Wrestling Championship twice at 189 pounds and the 1996 NHSCA national high school championship as well.
Munoz was later scouted and recruited by Oklahoma State University after having been one of the most-sought-after wrestlers in the country. Munoz earned two Big 12 titles while taking home the prestigious NCAA Division I title in his senior year.
Munoz also took his skills into international waters when he earned the silver medal at the FILA Junior World Wrestling Championships in 1998.
Since then, Munoz has become of the fast rising contenders in the middleweight division in the UFC, having bested the likes of Kendall Grove, Aaron Simpson, C.B. Dollaway and most recently Demian Maia, besting the former title challenger by decision.
Tyron Woodley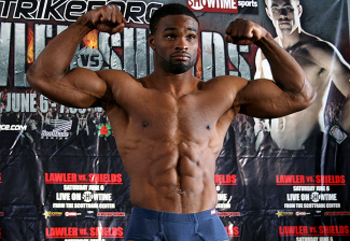 Current Strikeforce phenom Tyron Woodley came from humbling backgrounds as a youth.
Born 11th of 13, Woodley grew up in Ferguson, Missouri. When he was at McCluer High School, Woodley was a natural athlete, becoming a two-time state wrestling finalist before earning his first official title as a senior when he totaled a 48-0 record.
Woodley attended the University of Missouri, alongside Ben Askren, where he earned NCAA Division I honors and All-American stature. He became team captain from 2003-2005, earning the Big 12 title in 2003 before becoming runner-up in 2005.
Since then, Woodley has been coveted as one of the top prospects in MMA. Woodley is undefeated as a pro, holding notable victories over the likes of Andre Galvao, Tarec Saffiedine and former UFC contender and Strikeforce title challenger Paul Daley.
Mo Lawal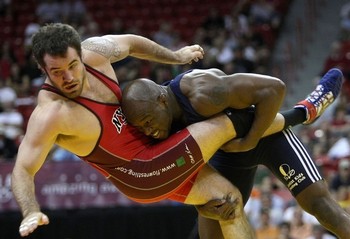 An international success in every sense of the word, "King "Mo first took to the MMA scene on the heels of a very extensive wrestling career that extended past his collegiate efforts.
Growing up in Texas, Lawal became a two-time high school state runner-up in 1997 and 1998 before taking the title in 1999 at the Texas state championships.
Lawal attended the University of Central Oklahoma, where he competed for three years in the Division II circuit, becoming the 2001 runner-up before taking the NCAA Division II title in 2002. He later earned the Big 12 title in 2003 before moving up to Division I.
Lawal took third before he went on to the international circuit, where he earned a litany of titles and totaled well over 20 medals and/or titles. Once an Olympic hopeful, Lawal transitioned to the world of mixed martial arts in 2008.
Lawal took a big splash in his MMA career when he defeated UFC veteran Travius Wiuff in his debut, knocking out the touted heavyweight in a little over two minutes. Eventually, Lawal became the Strikeforce 205-pound champion when he defeated Gegard Mousasi by decision.
Cole Konrad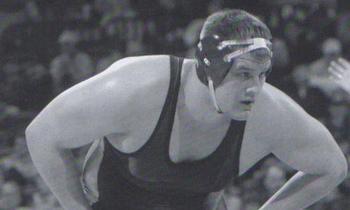 A successful collegiate wrestler-turned-world champion"this story sounds familiar.
Cole Konrad began his career as an accomplished wrestling standout at Freedom High School, compiling an overall 101-15 record winning the Wisconsin state championship in 2002. Konrad entered the Junior National Championships, earning titles in both Greco-Roman and freestyle wrestling.
Konrad attended University of Minnesota, where as a junior, Konrad went undefeated, eventually parlaying his success to the NCAA Division I championship. Konrad again repeated the amazing feat as a senior, going undefeated again and taking the prestigious title in 2007.
At the Pan American Games in 2005, Konrad won the freestyle wrestling title in the 120 kg division.
Since then, "The Polar Bear "has become a hot MMA prospect. He has found lots of success as a pro, earning the Bellator heavyweight championship after defeating a bevy of opponents in the organization's first tournament.
Victories over Damian Grabowski and UFC veterans Neil Grove and former title challenger Paul Buentello anchor his list of accolades.
Don Frye

MMA great Don Frye has become one of the more notable fixtures in all of the sport, thanks to his moustache, persona and overall fighting skills that rely on his wrestling background.
Frye attended Buena High School in Sierra Vista, where he first found wrestling, and attended the prestigious Arizona State University, where fighters such as Cain Velasquez, C.B. Dollaway and Aaron Simpson have all called home at one point.
Frye won three Pac-10 titles in college, earning Division I All-American honors for his efforts which he later parlayed into Olympic run. In 1987, Frye won both the freestyle and Greco-Roman events during the Olympic qualifier, where in his senior year he finished out his career at Oklahoma State.
Since then, Frye has been recognized as a pioneer in MMA, winning the UFC 8 tournament upon his mixed martial arts debut and the heavyweight tourney in December of 1996. For some time, Frye held the record for fastest knockout in the UFC after he finished Thomas Ramirez with a KO punch in just eight seconds.
Jon Fitch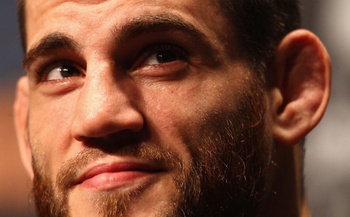 Despite convincing himself that he is not an athlete but a tireless worker, Fitch does come from a competitive background as a wrestler.
Attending Carroll High School in Fort Wayne, Indiana, Fitch wrestled at Purdue University as a walk-on. Fitch wrestled while under the watchful eye of mixed martial arts icon Tom Erikson.
A four-year letterman, Fitch became team captain of the Boilermakers, compiling an overall 97-12 record and earning NCAA Division I honors.
Though he went relatively unaccomplished as a collegiate athlete, Fitch has since become one of the more notable figures in mixed martial arts. He is considered universally as the consensus No. 2 fighter in the welterweight division.
Fitch has compiled an overall 13-1-1 record inside the Octagon and holds notable victories over the likes of Thiago Alves (twice), Diego Sanchez and Paulo Thiago, while having challenged for a world title against current champion Georges St-Pierre, turning in a "Fight of the Night "worthy performance in defeat.
Johny Hendricks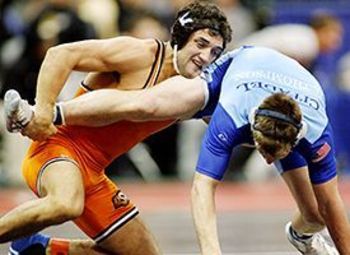 Hendricks attended the highly touted Oklahoma State University on the heels of a long and accomplished wrestling career in high school, where he earned three Oklahoma state titles whilst competing for Edmond Memorial High School.
In 2005 and 2006, Hendricks took home the NCAA Division I title, wrestling then at 165 pounds.
Hendricks finished second in 2007, making him a four-time All-American at the university, polishing off his career with three Big 12 titles before making his way to the world of mixed martial arts.
Since entering the Zuffa fold, Hendricks has gone 8-1 under both the WEC and UFC banners. He holds an overall 11-1 record, and his lone defeat comes at the hands of contender Rick Story.
Hendricks holds impressive wins over The Ultimate Fighter Season 7 winner Amir Sadollah and Charlie Brenneman"knocking out both men before the final bell.
Jake Rosholt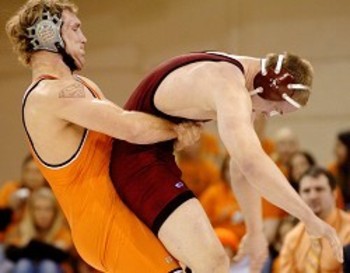 UFC veteran Jake Rosholt remains as accomplished as they come on the collegiate scene.
Beginning his career at Sandpoint High School, Rosholt would win three Idaho state titles and the national title in 2001 at 189 pounds.
Rosholt attended Oklahoma State University, where he won the NCAA Division I title in his freshman year, a feat that is rare.
Rosholt again claimed NCAA fame again in 2005 and 2006, earning All-American honors all four years of college while making him a legend in the wrestling scene. He's one of only a few men to earn three NCAA titles.
Following his accomplished collegiate career, Rosholt moved to the world of MMA, where he went uncontested in his five outings. He entered the UFC on the heels of his brief stint in the now-defunct WEC promotion.
In the organization, he picked up a convincing victory over perennial contender Chris Leben, submitting the heavy hitter with a third round arm-triangle choke.
Brock Lesnar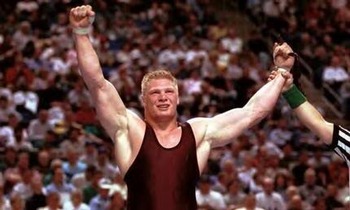 When Brock Lesnar was born in Webster, South Dakota, a star was born.
Lesnar picked up the wrestling bug at an early age when he attended Webster High School, securing a 33-0 record in his senior year.
Lesnar attended the University of Minnesota on scholarship, where he would take second place at the NCAA Division I championships. Lesnar vindicated himself in 2000 when he took the title, earning All-American honors in his final two years at the university.
In his four years as a collegiate wrestler, Lesnar compiled an astounding 106-5 record overall.
Though a stint as a WWE star soon followed, Lesnar eventually made his way to mixed marital arts, where he joined the UFC in February of 2008. In just his second professional bout, Lesnar took on former world champion Frank Mir, besting him early before succumbing to submission.
Eventually, Lesnar earned the heavyweight title when he defeated UFC Hall of Famer Randy Couture and later avenged his defeat to Mir by successfully defending his title, TKO'ing the jiu-jitsu expert on second-round strikes.
A victory over Shane Carwin followed, legitimizing Lesnar's place a world-ranked MMA fighter.
Wrestling Gear