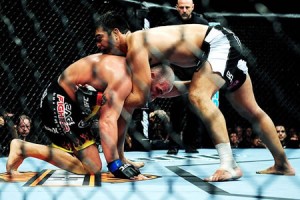 By Danny Udero

There is a broad question that has enveloped the wrestling world.
What do wrestlers do when their careers are over? Mixed martial arts has seen to be the cure for the grappler that can t get enough of contact sports. And, the newest wrestler to throw his hat into the octagon is scheduled to fight Dec. 2.
Arizona State University 2011 Division I wrestling champion Bubba Jenkins announced that his MMA debut will be in the Tachi Palace Fights (11 - Redemption) at the Tachi Palace Hotel and Casino in Lemoore, Calif.
MMAJunkie.com described Tachi as one of the sports top regional promoters. They stated that Tachi has produced a small army of prospects many of whom have gone on to fight in the UFC. Jenkins looks like he might be one of their most promising prospects yet.
The former Sun Devil will fight at 155 pounds. He is expected to move down to 145 pounds for future bouts. His intentions were made after the NCAA championships in March as after Jenkins won his title he stated that MMA was next. He said that he had fast hands and fast feet and that the camera is going to love him.
Jenkins signed with Gorilla Management in May, and then later joined American Top Team which is located in Florida. The two-time NCAA finalist fell in the 2008 championship and then after having a falling out at Iowa State, transferred to Arizona for his final year of eligibility. He was 94=24 in his collegiate wrestling career.
Taking a look at some other top wrestlers that
have made it big in mixed martial arts had me thinking that half of the top UFC champions have extensive backgrounds in wrestling. The biggest wrestler that comes to mind is Brock Lesnar, who also was a WWE superstar before his MMA career kicked off. He was a NCAA heavyweight champ for the University of Minnesota. Ironically, the man who took the title from Lesnar is also an All-American in wrestling Cain Velasquez from Arizona State.
I think amateur wrestlers began to take notice that they could earn money in the octagon, and began to make the transition to MMA. After all being a WWE superstar is a one in a million shot, and getting to fight realistically for money in a controlled setting made more sense to the wrestlers.
Velasquez was a two-time state wrestling champion in Arizona. He posted a record of 110-10. After graduation, Velasquez went on to wrestle for Iowa Central Community College and became a NJCAA National Champion. He transferred to Arizona State and in three seasons as a Sun Devil, Velasquez became a two-time All-American, earning fourth and fifth place finishes at the nationals.
Lesnar went undefeated his senior year in high school, at 33-0. He attended Bismark State College where he found success on the wrestling mat. He was a two-time NJCAA All-American and captured a national title. He then earned a scholarship to wrestle for Minnesota. He was runner-up his first year at the nationals, and then dominated the competition the next year to win his title.
Josh Koscheck is another wrestler turned MMA star. He was runner-up in the Pennsylvania High School State Championships. He attended Edinboro University, and became a four-time All-American on the mat. Koscheck improved every year finishing fourth, third, second and first in the NCAA finals. He was also an assistant wrestling coach before starting his MMA career.
Other wrestlers come to mind, but these are the most decorated that I can think of. Keep an eye out for Jenkins. He is going to be a wrestler that will make an immediate impact in the sport of MMA.