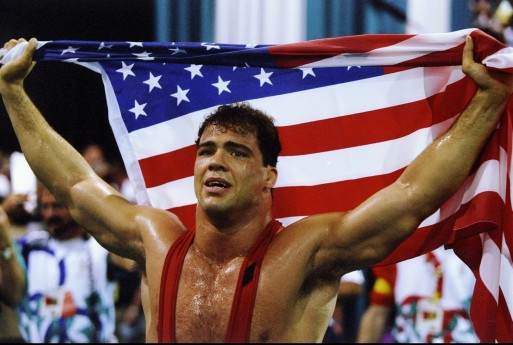 Former 1996 Olympic gold medalist, and current TNA superstar, Kurt Angle publicly re-confirmed his commitment to making an amateur wrestling comeback in hopes of qualifying for the 2012 Olympics. On his official Twitter page, Angle addressed the negative publicity surrounding his Olympic wrestling announcement back in April and reiterated that he is definitely getting ready.
"much negativity goin round @ Olympic comeback. I truly am getting ready. Don't compare it to my Ufc- mma attempts."
Two years ago, Angle, now 42, stated that he wanted to enter the world of MMA especially after the success he saw former collegiate and WWE wrestler Brock Lesnar having in the UFC. Rumors popped up that Angle was trying to get into the UFC. Unfortunately, his MMA aspirations never materialized and he ended up staying in TNA. However, many MMA critics blasted Angle for his foolish talk. Angle also revealed on Sunday that he tried negotiating with the UFC but they couldn't come terms.
Kurt Angle won the Olympic gold medal for the heavyweight weight class at the 1996 Olympics in Atlanta, Georgia. Even more amazing was that Kurt did this with a broken neck as he suffered two fractured vertebrae in his neck during the Olympic trials.
Soon after his Olympic success, the WWE offered Angle a wrestling contract. However, Angle rejected the offer. But in 1998, Angle changed his mind and signed an 8 year contract with the WWE. Angle would go on to have huge success with the WWE and became an even bigger star. Unfortunately, the 6 time world champion left the WWE in 2006 after contractual difficulties.
Angle would go on to become a 4 time TNA world champion and put the small wrestling promotion on his back. Angle helped to propel TNA into the #2 wrestling promotion in America, eventually attracting other top stars like Mick Foley, Rick Flair, and others. Currently, Angle is in a feud with Jeff Jarrett and they will wrestle in a tag-team match at the upcoming Sacrifice PPV on May 15th.
Continue reading on Examiner.com:, TNA superstar Kurt Angle confirms Olympic comeback, Couldn't agree with UFC
Wrestling Gear