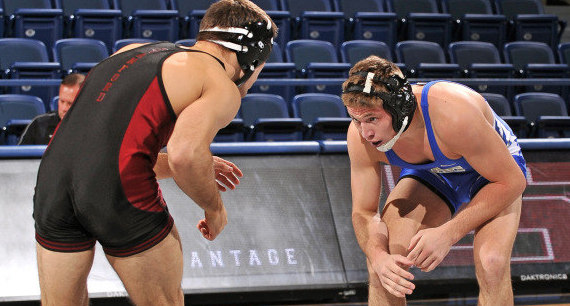 USAFA, Colo. – Sam Barber has been named the head coach for the Air Force wrestling team, as announced today by Director of Athletics Dr. Hans Mueh. Barber takes over the reins after spending the past six years as an assistant coach for the Falcons.
"Sam Barber is highly respected within the wrestling community and amateur sports world for his integrity, class and inspiration to his athletes," said Mueh. "I'm confident that the program will continue to thrive under his leadership, especially with the experience Bart Horton brings as his top assistant."
Barber joined the Air Force wrestling program in 2008-09 as a volunteer assistant, before spending the past five seasons as a full-time assistant and recruiting coordinator for the Falcons. During his time at the Academy, Barber has coached 11 national qualifiers, while also making his mark as a recruiter, bringing in one of the top 25 classes in the nation in 2012.
With more than 18 years of coaching experience, Barber's resume also includes a pair of head coaching stints, as well as 10 years coaching at the international level. He served as the head coach at his alma mater, Upper Iowa, and at perennial DIII powerhouse Augsburg College (Minn.).
Among Barber's recent accomplishments on the international level include serving as the head coach of the 2012 FILA Cadet Pan American freestyle team and the 2013 FILA Junior Pan American freestyle team, which both captured gold medals. Additionally, Barber is responsible for coaching Jesus Wilson, who placed second in the 1999 World Team Trials.
"With humility and gratitude, I am excited to accept the challenge of becoming the next head coach at the United States Air Force Academy," said Barber. "I would not be in this position without the support of so many people throughout my career. I would like to thank Dr. Mueh and Mr. George Nelson for providing me the opportunity to lead the Air Force Academy wrestling program."
"On the mat, the vision will be to produce podium-prepared athletes who live a championship lifestyle," continued Barber. "This will directly support the essence of the institution: to build leaders of character in service to our nation in a culture of commitment and a climate of respect."
Wrestling Gear