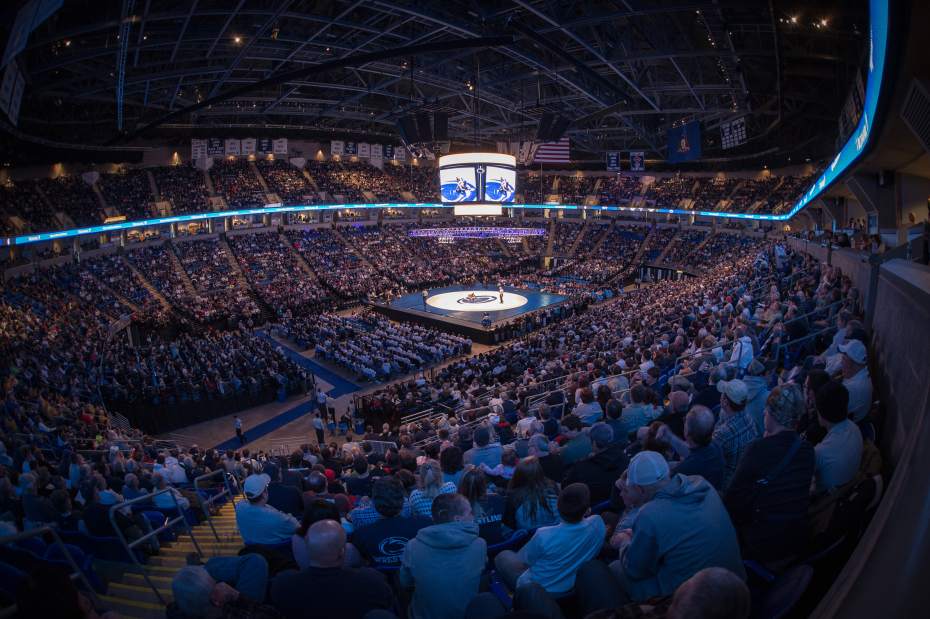 By Jason Mackey
Dan Miller has his own version of March Madness.
Every March since 1999, Miller has traveled from his Imperial home to the NCAA Division I wrestling championships with his brother, Tom.
Instead of keeping an eye on brackets, the Miller brothers track takedowns, reversals and pins, sneaking only a few minutes of college basketball between sessions.
"Every third weekend in March, that's our pilgrimage," Miller said. "Our trip to mecca, so to speak."
Miller isn't alone, as Pennsylvania's wrestling roots run deep and long.
So obsessed with wrestling are Pennsylvanians that, in the wake of schools cutting some varsity sports, rolling up the wrestling mats is about as rare here as Canada flooding hockey rinks or England deflating all of its soccer balls.
Since Title IX was adopted in 1972, creating more opportunities for women in competitive athletics, more than 500 NCAA member schools have dropped their wrestling programs. Only 226 remain.
In some conferences, wrestling disappeared altogether when money was shifted to fund women's sports.
Yet in Pennsylvania, where the sport remains vibrant, only 13 schools have dropped their wrestling programs. Nobody has more NCAA wrestling programs (33) or All-Americans (504) during a recent 50-year stretch.
"We always have some of the best wrestlers in Pennsylvania," said Chartiers Valley senior Noah Wilps, whose two older brothers and father wrestled at Pitt. "I don't think they're going to cut wrestling because they're going to want that to keep happening."
The numbers support Wilps' assertion that Pennsylvania has had its share of dominant wrestlers.
During a 50-year stretch from 1961-2011 — the most recent collection of data available — there were 504 All-Americans from the state, according to wrestling historian Ed Ewoldt.
The number is easily tops in the country. Iowa ranks second with 350, Ohio third at 313.
In 2011, Amateur Wrestling News/The Open Mat devised a formula using national rankings and state population to quantify interest in wrestling.
Pennsylvania scored the highest at 96.2, well ahead of Iowa at 80.0.
"Just like how Texas is big in football, Pennsylvania is big in wrestling," said former Canon-McMillan wrestling coach Chris Mary, who coached six PIAA individual champions and led the Big Macs to five PIAA team titles in 13 seasons. "It's been that way for decades."
But why?
FAMILY TRADITION
The pat answer goes something like this: Pennsylvanians are shot-and-a-beer, corner-bar, blue-collar people.
Wrestling — and not tennis, golf or cross country — is the sport that most typifies that.
"I think there are a lot of families who came up through the steel mills and were tough," former Clarion coach Bob Bubb said. "Wrestling blended into that type of personality."
Edinboro coach Tim Flynn didn't grow up here but quickly was indoctrinated when he wrestled at Penn State, winning 105 matches and a pair of Eastern Wrestling League titles.
"Once you get the sport in your blood, you can't get it out," Flynn said.
Jody Strittmatter sure can't. Hasn't tried, really.
Strittmatter was a PIAA champion at Cambria Heights near Altoona then enjoyed successful college wrestling careers at Pitt-Johnstown (two NCAA Division II titles) and Iowa (two-time All-American).
In 2002, Strittmatter co-founded Young Guns, which is considered the top-ranked wrestling club in the country by industry website Flowrestling.org.
"We have kids who come to our club, and their grandfathers are bringing them," Strittmatter said. "Their grandfathers, uncles and dad wrestled. It's really an awesome tradition."
One that doesn't exist other places.
Just ask Frank Vulcano, who coordinates the annual Powerade Tournament at Canon-McMillan, widely considered one of the biggest high school wrestling events in the country.
Because of the existing club structure and the insatiable appetite for wrestling here, the sport is more mainstream than it is in bigger states such as Texas or Florida.
"The opportunity is there for our kids to go year-round," Vulcano said. "I'm not sure the opportunity is there for the other states to do that. Other states are introducing themselves to the sport compared to our state."
Vulcano's son, Garrett, wrestled at Chartiers-Houston and last winter finished as a PIAA Class AA runner-up at 195 pounds.
Playing basketball or swimming was not anything Frank Vulcano considered for Garrett.
"He grew up in a family that loved wrestling," Frank Vulcano said. "We were destined to have him at least try it."
NUMBERS GAME
Pennsylvania also has a mathematical advantage.
Consider that 33 Pennsylvania schools sponsor NCAA wrestling programs: 11 at the Division I level, eight in Division II and 14 in Division III.
In comparison, geographically and by quality of wrestling, Ohio (17), New York (16), Iowa (12), West Virginia (5) and Oklahoma (3) sponsor far fewer.
"Wrestling is indigenous to our state," said Mike Moyer, executive director of the National Wrestling Coaches Association and a Pennsylvania resident. "There's so much tradition and history. That has helped us avoid program drops, although we have had a couple along the way."
The most recent Pennsylvania school to eliminate wrestling was Duquesne University in 2010. IUP and Temple previously said goodbye to their wrestling mats. In many cases, the move was made for budgetary reasons and to comply with Title IX, which promotes gender equality in college sports.
Title IX dictates that no one be discriminated against in consideration of federal financial assistance due to gender. In effect, the law requires schools to award a proportionate number of athletic scholarships to females as it does to males.
But while there have been some casualties — though not nearly as many as on a national scale, with schools struggling to become Title IX compliant — it's also wise to consider how many college programs Pennsylvania started with.
There are 226 colleges or universities that sponsor NCAA wrestling, which means that Pennsylvania accounts for 14.6 percent of the total.
Further, Pennsylvania has 487 high schools — more than all but three states — participating in wrestling, according to the National Federation of High Schools' 2012-13 survey, creating a winning equation for those looking to pursue a college sport.
"We're fortunate," said Pitt coach Jason Peters, who wrestled at Division II East Stroudsburg. "We have a big state with a lot of people committed to wrestling."
Peters cited club programs, the number of knowledgeable coaches and fervent supporters as reasons the sport has maintained its strength.
"Some sports, like football or basketball, if you're not tall or real fast, how good can you be?" Peters said. "Wrestling's an art. If you can put in the time, really learn the techniques and master the skills of the sport, you can be pretty good."
WHAT DOES FUTURE HOLD?
Edinboro athletic director Bruce Baumgartner won four Olympic medals during his competitive wrestling career, including two golds.
He's not ready to declare Pennsylvania's existing programs safe from future cuts, yet it's hard to fathom a school would cut what is inevitably one of its biggest draws.
"As an athletic administrator, budgets are always tight, and you have to analyze the value of your programs," Baumgartner said. "When you analyze a program, you look at participants, how much booster support do they have, how do they do in fundraising, what kind of following do they have, do they generate positive publicity, what kind of notoriety regional and nationally?"
In Pennsylvania, that means 3,152 fans packing Edinboro's McComb Fieldhouse to watch a three-point loss to No. 3 Iowa on Dec. 5.
Or Penn State setting an NCAA attendance record for a dual meet when 15,996 watched the Nittany Lions top No. 11 Pitt, 28-9, three days later.
"I would hope (Pennsylvania) schools are safe," Baumgartner said. "But it comes down to economic decisions, I believe we're safe here at Edinboro. I think with the recent positive publicity we received, it's a testament to what a smaller school can do in the wrestling world."
And, more to the point, what a Pennsylvania school can do when it comes to wrestling.
"I'm comfortable and confident with wrestling in the state right now," Penn State coach Cael Sanderson said. "I think the interest is very high.
"Numbers don't lie. And the numbers are there now."
Wrestling Gear