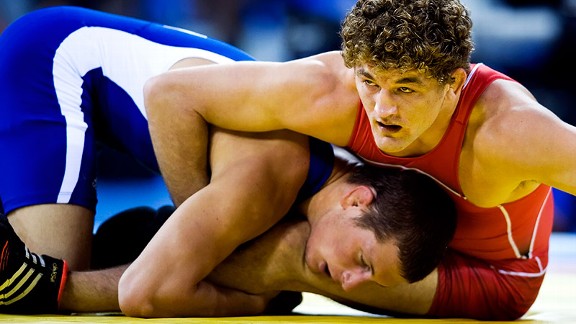 He's never stepped foot in an Octagon to compete but is one of the world's best welterweights. He also happens to be available for hire.
Ben Askren, the former Bellator welterweight champion, took time to speak with Bleacher Report MMA about a future that's uncertain. It was widely suspected thatAskren would immediately head towards the UFC with his run in Bellator done, but that doesn't appear to be the case.
UFC president Dana White let it be known that the company has no interest in signing Askren, implying he could go elsewhere and improve his overall game. By many fans, it seems like White is simply trying to control who has the bargaining chips at the negotiation table and Askren agrees.
"I'd be shocked if I didn't get an offer from the UFC," Askren said. "I'm the sixth ranked fighter in the division."
Askren achieved that kind of recognition by amassing a 12-0 record while competing mainly in Bellator. He's one of the best wrestlers to enter the sport in recent memory and outside of the fight with Jay Hieron, has rag-dolled the 170-pound division inBellator.
It would make sense for Askren to be signed for the promotion, as it's hard to be the premier promotion in the world and not sign a top 10 talent if they're available. Askrenhas even offered to help Joe Silva by picking his opponent for his UFC debut, Rory MacDonald.
Askren came on The MMA Hour to call out the Tri-Star product as someone who irked him, even offering to fight for free and retire if he lost. It's quite the confident statement for a fighter who's never faced a top 10 opponent and calling out a fighter who was widely regarded as the future of the 170-pound division.
"You know, there's people in life that you can't put your finger on it, but you just know they bother you. That's him," Askren said of MacDaonald.
But why MacDonald? Other than the fact Askren doesn't like him, he believes it's a great matchup for him.
"I feel like my jiu-jitsu and wrestling are better. When it got tough (at UFC 167) he backed down. You might land a good punch here and there but to beat me, you're going to have to be tough. I think he was severely over-hyped."
Over-hyped is a sentiment about Askren that's shared by a number of MMA fans. It's easy to discredit Askren's credentials based on the level of competition he's faced and how easily he's dispatched of his opponents. Although fans may not be universally backing a "#SignAskren" movement, the former Bellator champion has his eyes focused on the future.
"You know I do or say things sometimes to get a reaction out of fans," Askren said. "It's all about the fans wanting to see you. Whether they want to see you win or lose, as long as they tune in."
The UFC could certainly use the interest Askren would undoubtedly create. With their biggest pay-per-view draw, Georges St-Pierre, uncertain if he wants to come back, the UFC is in need of guys who can sell a card. And like Askren pointed out, plenty of fans will tune in to watch him win or lose.
But the UFC seems content on not rushing to sign Askren, even though the World Series of Fighting has already put an offer on the table. But it's clear from hearingAskren speak that competing in the WSOF is at the top of his wish list.
I'd have to think long and hard about joining the World Series of fighting. I honestly think there's more competition in Bellator at 170 pounds. I mean their champion (Steve Carl) couldn't even get past the semifinal round ofBellator's tournaments. I can make money a lot of ways besides being locked in a cage.
Since being let go by Bellator, Askren has manged to keep himself busy outside a MMA cage. He has two wrestling schools in the Milwaukee area and is, of course, training and coaching his teammates at Roufusport. He also competed at Agon Wrestling Championship against Penn State's Quentin Wright and dominated their match by the score of 22-8.
Askren explained that he likes the vision of AWC and said there's six, possibly seven events on the horizon. It's an attempt to not only raise awareness about wrestling due to the Olympics fiasco, but also a chance to see many of the best collegiate wrestlers competing against one another such as when Bubba Jenkins faces Kyle Dake in Madison Square Garden later this year.
However, virtually everyone in the MMA world is waiting for Askren and the UFC to put pen to paper. The jump in competition from Bellator to the UFC is sure to be vastly different, but it's not something Askren is concerned about.
"I'm going to keep doing what I do best," Askren said. "I'm working on my weaknesses at Roufusport and I train with Anthony Pettis, who I could argue is the best striker in all of MMA. And we train kickboxing, boxing, not just MMA."
True, Askren does train with a very talented camp and one of the best coaches in all of MMA. He's accomplished a lot not only in MMA, but in amateur wrestling as well. All that's missing is a chance at UFC gold.
Wrestling Gear