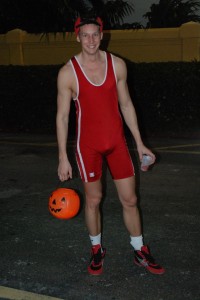 What better way to spend Halloween than in something you're comfortable in? Like wrestling gear. If you're a wrestler this is quite possibly the easiest costume too.
Here's what you'll need:
Wrestling Shoes (ones you're not wearing on the mat anymore)
Singlet
Headgear
Done. Now go out and have some fun!
If you're in a colder climate than add a warmup if you have one or sweats and a sweatshirt. Just take your singlet off your arms and hang them down over the sweets so it can be seen and you'll look just like a wrestler in wrestling practice.
Wrestling Gear