September 27th, 2011 by Tom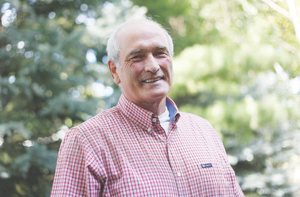 Longtime wrestling coach and retired teacher nominated for Barrie Sports Hall of Fame
By GENE PEREIRA
Asked to pick one special memory or moment that stands out more than any other from his more than 30 years of coaching wrestling, understandably Tom Stockdale at first seems overwhelmed with the question.
"There's so many wonderful things about coaching individuals, "said the retired Portage View Elementary School teacher, who coached the school wrestling team from 1980 until 2006.
After collecting his thoughts, Stockdale has his answer.
"I'm going to come back to one thing that really always stuck in my mind, "he said of a 15-year-old memory.
Stockdale recalls that he had taken his Portage View wrestling team to the provincial championships. With so many matches taking place on several mats at the same time, he was going from surface to surface.
Stockdale hadn't any time to talk to the other coaches. One of the matches is set to start and his wrestler is out there shaking hands before they begin.
He looks across to see who the coach is from an Oshawa-area school and he finds the coach looking right at him.
"He hadn't come up to me, hadn't said a thing, because he wanted to see what my reaction would be, "Stockdale explained.
Standing there was Quinten MacPhell, a former wrestler whom he had taught and coached at Portage View.
"As soon as he saw me look at him, he started laughing, "Stockdale said. "This was the first person that I had actually coached against that was somebody I had already taught and coached. It was kind of neat. It was really good.
"That let me know that I was doing the right thing."
Thanks to Stockdale, there are several Quentin MacPhells in our school's today giving back to the sport like Stockdale, a former wrestler himself, has.
"That's probably the most gratifying thing, "he said of seeing his students now coaching other students.
All this makes it easy to understand why Stockdale has been nominated for induction into the Barrie Sports Hall of Fame as a builder and is being considered for this year's Local Lifetime Achievement Award.
"It's pretty impressive, "Stockdale said of the nomination, which he admits is a pleasant surprise. "It's really very kind. There are so many other people that deserve their recognition as well, so this is very nice. It took me back."
What really takes you back is when you look at all Stockdale has done for wrestling in Simcoe County at the elementary and high school levels.
An instrumental coach behind the Kempenfelt Bay Wrestling Club and an assistant wrestling coach at Barrie Central Collegiate since his retirement, Stockdale's resume is as impressive as it gets.
He led the Portage View Panthers to seven Simcoe County championships, a special feat considering the event often draws more competitors than the provincial championships.
Under his guidance, Portage View wrestlers captured more than 80 medals at various provincial championships. Not bad for someone who first took to the mat himself back in 1964 as a way to keep in shape.
"I think it was because I liked football and I was trying to keep in shape with wrestling, "said Stockdale, who wrestled a little bit in university. "Some of my friends were doing it, so"¦"
He started the Panthers wrestling team when he first arrived at the school in 1980. It proved a tough go on the mat to start, says Stockdale who still remembers their first school competition.
They found themselves up against a very talented Baxter team that had won the Ontario Elementary School Championships and had a number of talented provincial athletes.
"I don't think we won a match, "Stockdale said with a loud chuckle. "But that was good. It was a good learning experience for me as the coach and for the kids.
"It progressed from there pretty quickly."
That it did, as the highlights were plenty.
In 1997, the girls won the Ontario Bantam Championship and the boys duplicated the feat in 1999.
In 1998 and 2001, the girls placed third in the province.
Many of his students have gone on to compete at the high school and university levels, some even at the provincial and national championships.
Former team member Jonathan Goodman won gold medals in both the Ontario and Eastern Canada Championships.
Through the highs and lows, Stockdale has always maintained one thing: You've got to pick yourself up off the mat.
"You can't give up, "he said. "That's one thing. You just have to be resilient. That was very important. You let the good and bad go by and you just keep on improving."
While some see it as an individual sport, Stockdale worked hard to build a team concept. Supporting one another is as big as the hours spent practising on the mat.
He always made sure to include the parents in that network of support and recalled how he would get up in front of the group before the county championships and remind them of that.
"I'd tell the parents, you know, if your kid comes off the mat and he won, give them a hug, "Stockdale said. "I said if they come off the mat and they lost, give them an even bigger hug. They appreciate that.
"It's a sport where you leave everything on the mat."
Stockdale loves wrestling for many reasons, which is why he would expose as many students to the sport as he could.
"I liked the sport, too, because I could involve as many people as possible, "he said. "I didn't cut anybody. It wasn't a tryout or anything. They would try it out themselves and if you don't like the sport, that's fine.
"You encourage them, even if they don't like the sport, to try something active to do."
Through all the time in the gym, Stockdale still found time to coach cross-country and track and field at the school.
"I felt I needed to do stuff. I have to keep busy, "he said. "I'd start out doing cross-country. Then go into wrestling and finish off with track and field just to keep me myself busy throughout the whole year.
"I needed to do that. I felt good doing that and it kept a lot of kids busy. You get a much better human being when you experience as many things as possible."
Stockdale also helped organize the Simcoe County Wrestling Championships numerous times over the years.
"I can't even remember how many times, much to the chagrin of Mrs. Stockdale, "he said, adding a chuckle. "But (Beverley has) been very supportive, as my two children (Jason and Erin Corry) have."
While Stockdale retired from teaching, he never ever considered to stop coaching. He's a mainstay at the Kempenfelt Bay Wrestling Club and helped Barrie Central win back-to-back Georgian Bay wrestling crowns.
"As long as I can, "he says without hesitation when asked how long he wants to coach.
He promised Beverley, who recently retired from teaching herself, he would make time for them to travel.
"I miss teaching, but I get my fill by doing lots of coaching, "added Stockdale, who received an award in 2002 from his fellow coaches in Simcoe County to recognize his years of coaching and promoting the sport of amateur wrestling.
"I'm fine that way. I think that's why I continue doing it. I enjoyed it that much."
He misses Portage View, although he admits he still finds time to help out with the wrestling team here and there. It will always hold a special place in his heart.
"Oh yeah, I taught there for so long. I felt like part of the furniture, "he said before bursting out laughing.
He's touched by the Hall of Fame nomination.
"This is a real honour, no question about it, "he said. "The people that nominated me, this is very kind and I appreciate it.
"I look back and I think I've made a positive impression on people and I think that's good."
The look on Quentin MacPhell would tell you he certainly has.