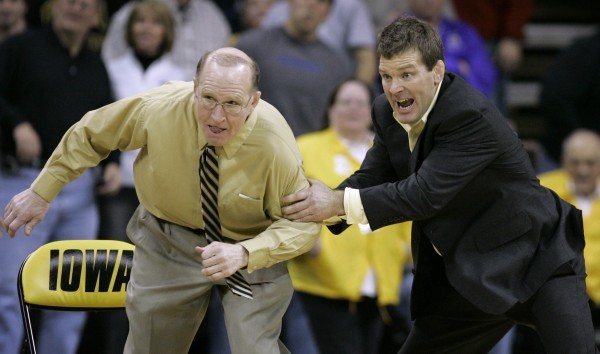 By MATT LEVINS
IOWA CITY "Dan Gable has been the face of amateur wrestling for the better part of the last half-century.
During that span, Gable has done just about everything there is to do for the sport of wrestling, both on the mat and off. He won two NCAA Championships during his competitive days at Iowa State University, losing just one match during his collegiate career. He went on to win a gold medal at the 1972 Olympic Games in Munich, Germany, while not allowing a single point.
Gable then went into coaching. He was the head wrestling coach at the University of Iowa from 1976-1997, where he led the Hawkeyes to 15 NCAA national team titles and 21 straight Big Ten Conference championships. He coached 152 Al-Americans and 45 national champion during his 21 years as head coach at Iowa. He also coached the United States Olympic Freestyle team in 1980, 1984 and 2000.
Gable stepped down after the 1997 season and moved into an administrative position with the University of Iowa.
Gable has also served in numerous other capacities, including broadcaster on Iowa Public Television's College Wrestling series.
But most notably, Gable has been the greatest ambassador for amateur wrestling who ever lived. Gable is the face of wrestling. Whether it has been on the mat, in the corner, behind the microphone or at various gatherings, Gable has been at the forefront, the voice of the sport.
Gable "retired" from the University of Iowa at the end of December, freeing him up to do much more work behind the scenes. Just don't mention the word "retired" to Gable, for he knows his work has only just begun.
"Excuse me? What did you say?" Gable rebutted when asked about his "retirement." "That word is not in my vocabulary."
Gable recently took time out of his busy schedule to talk about the future of wrestling and his visions for the sport.
Wrestling Gear