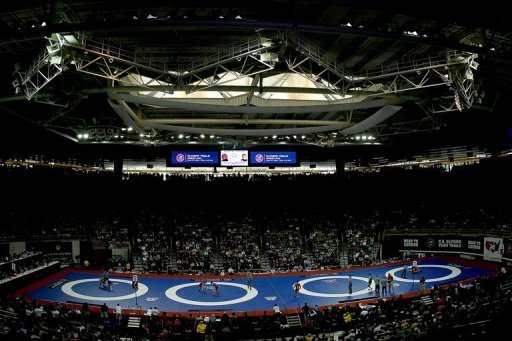 World amateur wrestling body FILA has brought its campaign to save the sport in the Olympics to its birthplace, Greece.
FILA, with the help of the Greek wrestling federation, has organised a senior international tournament in Olympia this weekend to help publicise their fight to keep the sport in the Olympic Games in 2020.
The 15-member Executive Board of the International Olympic Committee (IOC) in February voted to remove wrestling from the Olympic schedule. The IOC will make a final decision in Buenos Aires in September on whether wrestling will remain for 2020.
"We were punished by the IOC for not listening to suggestions in the past, "FILA president Nenad Lalovic told AFP.
"I don't blame the IOC, this is our problem and we have to fix it. We came here (Greece) to become wiser. We've come back to our roots."
Lalovic said ever since the IOC decision in February, FILA has been working to make drastic changes in the sport "in order to make it more popular, more watchable."
"Every week we think about changes. Even if we make mistakes, it's worth trying them. We have not gone through a facelift, but major changes. We are not afraid of changing for the better, "Lalovic said.
He expressed optimism that the IOC decision will be in favour of wrestling come September.
"Wrestling is practised everywhere on earth. Strictly speaking no other sport has that. Look at the U.S. They have 28,000 scholarships for wrestling and 9,000 of them are for girls. I believe in a short time we did a lot by changing rules, our constitution, we introduced women onto our board, we made the sport more competitive, "Lalovic said.
The FILA congress met in Moscow in May to agree to changes, with delegates saying their sport risked being incomprehensible to outsiders.
The rule changes to both Olympic wrestling styles — Greco Roman and Freestyle — aim to make the sport more attractive for TV audiences by favouring spectacular throws and attacking wrestling.
Many competitions, including during the weekend in Olympia, will or else have been using the new rules with success, according to Lalovic.
"Usually you need a year to make these changes. We made them in less than a month. We've had problems, such as with scoreboards, but these will all be adjusted, "Lalovic said.
Lalovic added FILA needs to develop national championships and make wrestling more a team sport.
"Maybe 10 or 15 countries only have this now. We are thinking of having a world championship for teams – this would be something new. We believe we have too many individual championships. It is an individual sport but you can have something like the Davis Cup in tennis for wrestling, "Lalovic said.
The weekend competition in Olympia will feature 130 athletes from 11 countries.
"It is a great honour to host such an event at the birthplace of the Olympic Games. The Greek wrestling federation is excited and feels confident this event will show the world the historic importance of the sport of wrestling as an integral part of the Modern Olympic Games as it was for the ancient Games, "said Greek wrestling federation president Constantine Thanos.
Wrestling Gear