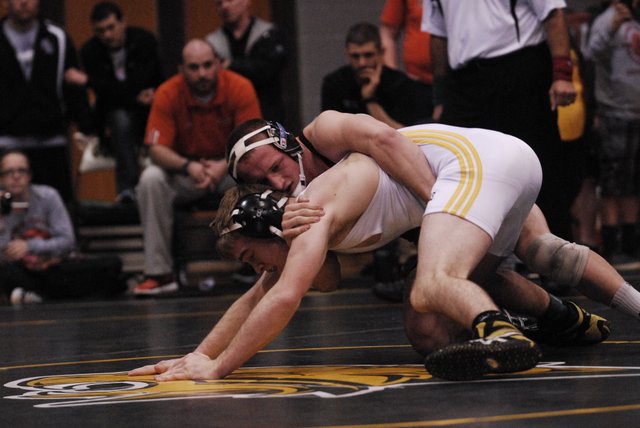 From the very infancy of the ancient Olympic Games, as early as 708 B.C. on the plains of Olympia, wrestling was there.
Described by the International Olympic Committee as being "highly valued as a form of military exercise without weapons," matches ended only when one competitor admitted defeat.
Multiple millennia later, that same committee looked at the sport as presently constructed, its rules vastly different not only from the ancient incarnation but also that of more recent years past, and recommended its removal from the 2020 games, cutting it from the Olympics' list of 26 core sports.
Wrestling, in its most dire hour, instead refused to concede defeat.
Already deep into their seasons, several area high school coaches circulated emails and petitions to spread awareness of the IOC's, February decision., The sport's international governing body, FILA, meanwhile set about a series of changes to wrestling's rules and changes to its own intra-agency practices. And the unlikeliest of allies " the United States, Iran and Russia " banded together as brothers in arms.
The story of wrestling's battle to remain in the Olympic Games transcends continents. And yet it can also be told without leaving one's Northeast Kansas community.
'Not enough promotion'
In late May, Ken Chertow, a wrestler on the 1988 U.S. Olympic team, returned to Shawnee, as part of his now 25-year nationwide wrestling camp. A former All-American at Penn State University, Chertow was inside the Shawnee Mission Northwest High auxiliary gymnasium the day the IOC, voted, to include wrestling on a short list for inclusion in the 2020 Summer Olympics " wrestling will remain in the 2016 games in Rio. Having beaten out sports like karate, roller sports, sport climbing, wakeboarding and the Chinese martial art of wushu, wrestling joins squash and a combined bid by baseball and softball.
In St. Petersburg, Russia, where the May vote took place, FILA president Nenand Lalovic dug for his best wrestling analogy when telling The Associated Press, "The match is not finished. We have a second match to fight. But be careful, we are good fighters."
The second match on deck is the Sept. 8 full IOC assembly in Buenos Aires, Argentina, where the final decision on whether to keep wrestling in the 2020 games will be made. That decision, much like the vote to keep wrestling on the short list for the games, hinges on the sport's ability to modernize with the rest of the Olympic games, as some critics had put it.
"There's not enough promotion of the sport," Chertow said. "We as a wrestling community need to work harder to promote the sport."
'You're going to lose the dreamers'
SM Northwest wrestling coach Howard Newcomb has been wrong before, he said, but he just can't envision an Olympics without wrestling.
"You're going to lose the dreamers," he said, "and that's going to be a sad day."
To be sure, there is no equivalent to the National Football League or National Basketball League for amateur wrestlers. Beyond college wrestling " and even then, the nearest Division I wrestling program is at the University of Missouri " the Olympics represent the pinnacle of the sport for its participants.
David Nordhues, a wrestling coach at Colby Community College, recently visited Bonner Springs High for a four-day camp at which he instructed wrestlers as young as five and as old as 18. He knows few, if any, will stand on an Olympic medal stand one day. But why stop trying?
"To take them dreams away from kids, it's no good," Nordhues said. "Some of them kids, they'll never be Olympic champions nor will they ever make Olympic teams, but it's OK to dream about it and set standards to live by. Whether you ever accomplish it or not, you're going to accomplish something along the way that's worth being proud of."
Nordhues' former college teammate and current BSHS wrestling coach, Brandon Jobe, posted a YouTube video on his team's website, bonnerspringswrestling.com, not long after the IOC's decision to remove it from its core sports.
In the video, "Save Olympic Wrestling," which is narrated by actor and radio personality Jay Mohr, Mohr calls the decision a disaster.
"If you take wrestling out of the Olympics," Mohr says, as footage of college and high school grapplers plays, "you're effectively stripping it from college and high school. There is no pro. There is no payoff to a wrestler. That's what separates a wrestler from the pack, that's why wrestlers walk around with chips on their shoulders.
"It's an amazing sport," Mohr, also a former wrestler, continues, "it's the purest sport. It's the solo sport. It's a monastic life, the life of a wrestler " running alone, working alone. "¦ It's the most indicative sport of what you go through on a daily basis."
Rules changes
As much of a shock the IOC's decision was to the wrestling community, Jobe admitted that the sport's rules had become confusing at the freestyle and Greco Roman levels. Honestly, he said, if he weren't around the sport as much as he is, he'd even have trouble keeping up.
"It was kind of the wake-up call that we needed to make some changes to the sport and modernize it a bit," Jobe said. "Which I think is good; it's given us some publicity. More people are talking about wrestling and I think we can use that for the good."
Since February, FILA elected a new president (Lelovic), brought more women and athletes into its decision-making and began the process of making wrestling a more compelling spectator sport.
Matches will now consist of two three-minute sessions instead of three two-minute periods. And instead of the previous system that awarded victories on best-of-three judging, matches will be decided using cumulative scoring.
What if?
Months still separate the wrestling community from learning of its Olympic future. In the time since its inclusion was thrown into question, the wrestling community banded together at seemingly all levels. The most striking scene of unity came in mid-May, when a "dream team" of U.S. wrestlers, grappled, with wrestlers from Iran and Russia at the Grand Central Terminal in New York City as part of a marketing effort to raise support for the sport.
"When they took it out of the Olympics," Nordhues said last month, "they weren't just fighting a battle against the U.S."
But what if all this " the rules changes, the promotion, the unity " isn't enough? What if wrestling, long though to be as central to the Olympics as track and field, is indeed excluded from the games?
"My gut feeling is that I think there will be some kind of anarchy if wrestling was taken out," Newcomb said. "Deep down inside I just don't see how they can pull the plug on wrestling in the Olympics."
Added Nordhues, "It will crush the sport. Do I think it will happen? Probably not. It's one of the only sports that's been there from day one."
Other events being considered like baseball and softball are fine sports, Chertow said, but don't have the global appeal of wrestling.
"It's just different," Chertow said. "We're one of the core sports, we have way more participation. And way more younger people, which is the core of the Olympic movement: to get young people to aspire to be great."
Wrestling Gear