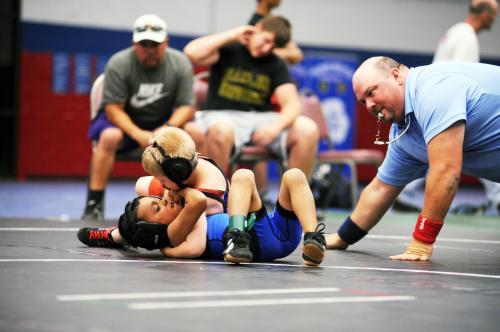 For many young athletes in East Tennessee, football, just makes sense.
Wrestling? Not so much.
Hunter Fortner, one of four local boys who won AAU Spring Youth Nationals on March 23 in Kingsport, said he's learned they're not so different " but not without a few surprises along the way.
"I got a flyer for it at school," said Fortner, of his first exposure to wrestling as a second grader. "I thought it was WWE stuff at first. It was really weird. I didn't really get it."
Now an eighth grader at Holston Middle School and two-time AAU All-American, Fortner said it all makes sense.
"It's like football," he said, while crediting coaches Joe Reep and Tim Pittman as well as teammates for helping him along. "It's a contact sport that keeps me in shape during the winter. "A takedown is kind of just like tackling, but there's more technique," he added.
It's clicked with others in the area as well. Six-year-old Mason Shields (35-pound tot division), ten-year-old Colby Dalon (75-pound midget division), and sixth-grader Tyler Jay Holmes (112-pound junior division) each won nationals in their respective classifications. The event included competitors from more than a dozen states.
Colby's father Bert Dalon, an amateur youth football coach, echoed Fortner's views about the connection between football and wrestling. Never mind the fact he said he "never even heard of" wrestling before his sons took it up. "If I had a high school football team, every player on my team would do wrestling. I think it's phenomenal for football," he said.
Several of the boys also competed in the Tennessee AAU State Championship, held March 9 in Cookeville. Holmes placed first and was recognized as the top performer for the whole season. Fornter and Shields finished second at the event, held March 9 in Cookeville.
Dalon placed second at this year's state tournament after finishing first at state and nationals while posting a perfect 37-0 record two years ago. His father says the family pressed on with the competition despite Colby's 17-year-old sister suffering an aneurysm the week of the tournament.
Although they wrestle for three different clubs, the boys all hail from the Gibbs, Corryton, and Halls area. Shields, a two-time AAU All-American, wrestles for Praetorian Wrestling, and Dalon competes with Knoxville Youth Wrestling. Holmes and Fortner wrestle for Eagle Talon Wrestling.
"It used to not be a very big area (for wrestling)," Fortner said. "It used to be only out west (Tennessee). But our coaches started over here, and it's really exciting. It's fun to wrestle better people and represent where we're from."
Make It Five: Nicholas Stigall repeated as champion at the Tennessee Men's Gymnastics State Championships in Cookeville on March 16. His fifth straight state championship, the home-schooled seventh grader from Farragut won in all six events " floor exercise, pommel horse, still rings, vault, parallel bars and high bar. Stigall, a level 8 gymnast, trains with Tatartu's men's gymnastics team in Farragut.
Wrestling Gear