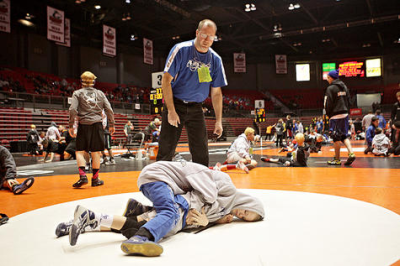 Northern Illinois wrestling coach Ryan Ludwig tried to find positives when he heard the International Olympic Committee recommended wrestling be removed from its list of core sports for the 2020 games.
"I can't look at the decision negatively," Ludwig said. "I've got to be positive about things. It's a chance to battle hard and overcome adversity, that's a lesson wrestling teaches. The decision to leave wrestling out of the Olympics was a flawed one. It's a staple. It's one of the original sports and is one in which anyone can participate."
The decision would seem to represent a death knell for wrestling, a sport with participation numbers on an upward trajectory.
In the last 10 years 40,000 additional prep wrestlers have taken the mat. Since 1999 there are 95 new NCAA wrestling teams, and last year the Division I wrestling tournament drew 112,000 spectators.
But, without national support for wrestling, the potential for continued growth could slow. Without medals at stake, state funding for international training facilities and top tier programs could cease.
Amateur athletes would be stripped of their dream of one day rising to a medal stand as their national anthem fills an Olympic arena.
"Competing in the Olympics is the most important platform out there in which college and young wrestlers can aspire to," Ludwig said. "Without a professional league that's the peak of our profession. It's the ultimate goal; win a gold medal."
Even though wrestling doesn't have a professional league, it has been a part of all but one Olympic games since 1896. The historical significance of wrestling stood out for Sycamore junior and 113 pound Class 2A state champion Kyle Akins.
"I couldn't believe wrestling was dropped when I heard it," Akins said. "I think it's a big mistake and shouldn't be allowed to happen. A lot of high school wrestlers don't look at the Olympics as a goal because it's so hard to get there.
"But we look at the NCAA and we dream about the Olympics. It's a shame to take away a sport that was there when the Olympics started. I don't know how they can do that. I think they would be smart to reinstate wrestling in the Olympics."
The potential does exist for wrestling to be included in the 2020 Olympics. Hearings will be held in May as representatives from wrestling, climbing, karate, baseball/softball, roller sports, squash, wake boarding and wushu will state their case to be the one sport the IOC adds to the 2020 Olympics.
A decision by the IOC is expected in September.
Meanwhile, the wrestling community has rallied around the cause. While USA Wrestling will have to lobby the IOC to reinstate wrestling, amateur coaches and wrestlers have worked to strengthen their youth organizations and make sure their voices are heard.
"We work so hard at the youth and high school level," DeKalb coach Mike Pater said. "There are kids with dreams of being an Olympic champion. The number of participants in a significant number of countries seem to favor wrestling being involved."
Added Ludwig: "It's disappointing. But it's inspiring to see the vigor organizations have used to fight for reinstatement."
As a two-time Wisconsin state champion and former NIU wrestler, Alex Nelson was inspired by Olympic medalists. He rattles off their names like they were close friends, even though he'd only attended camps at which they spoke.
He was able to make a connection with Olympic medalists thorough his wrestling dream and hopes other amateur wrestlers will have the same opportunities in the future.
"It was a sad day for wrestling," Nelson said. "I thought it was a joke when I was told. As a kid I remember going to camps with Olympic medalists and looking up to them. I hope it's a decision that gets changed.
"There are a lot of politics involved. I think the ultimate decision is above us at the high school coaching level. If it can be overturned, it could be the best thing that ever happened to us though. It's given wrestling a lot of exposure."
Wrestling Gear