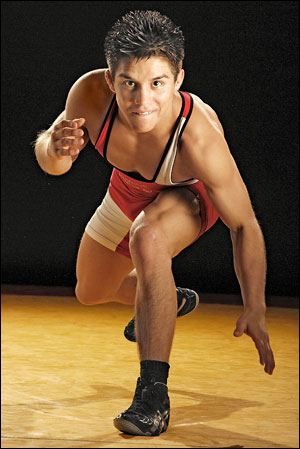 For the last four years and change, Henry Cejudo, has been a golden goose for MMA. Coming out of the 2008 Beijing Games where he claimed freestyle wrestling gold at 121 pounds, Cejudo was 21 years old and the youngest American wrestler to ever top the podium. With the impact of Zuffa's WEC product taking shape already, onlookers were actively seeking an athlete that could bring the 125-pound division to the masses. They wanted Cejudo.
In addition to being a young, telegenic Olympic gold medal wrestler, Cejudo's hard-scrabble background also generated some excitement. The youngest of six children, Cejudo bounced between impoverished neighborhoods in South-Central Los Angeles, Las Cruces, N.M., and Phoenix. His mother, a Mexican immigrant, couldn't even go to Beijing to see her son compete because of her citizenship status. His gold medal, easy charm and background made it easy to envision him as a potential Oscar de la Hoya-esque figure for the MMA realm.
Instead, Cejudo rebuffed constant needling about an MMA career. Instead, he said he wanted to start a pro boxing career before rededicating himself to making the 2012 London Games. In April, Cejudo was defeated by Nick Simmons at the U.S. trials in Iowa City, Iowa, threw his wrestling shoes into the crowd and announced his wrestling career was over.
"I wasn't meant to be an Olympic champion. For me, it was to use that platform to share my story and to give back, "Cejudo explained after his retirement.
Now, his life story and Olympic gold medal will give him the chance to inspire in another idiom all together. Though much has changed since the Beijing Games –, Demetrious Johnson, has quite nicely answered the flyweight division's call for a ruler thus far — Cejudo will be one of the most prized prospects to ever enter the sport.
But, does his mommy approve?
"I think she wanted me to retire anyway. She doesn't like me wrestling, "Cejudo told the media after retiring. "She's a sweet lady. To be honest with you, she'd rather have us preaching."
Well, Cejudo is settled in Arizona. Maybe he can hook up with Ben Henderson at the MMA Lab. That way, he can fight, and, preach. Can I get an amen?
Official Tweet
Well, it's official. #MMA here I come!

— Henry Cejudo (@HenryCejudo) January 30, 2013
Wrestling Gear