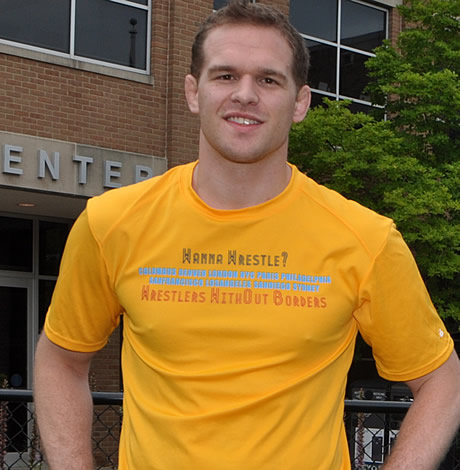 Hudson Taylor is an All-American wrestler, one of the top five pinners in the history of NCAA wrestling and an ally for members of the LGBT community. He encouraged individuals at Camp Randall in Wisconsin to support LGBT individuals along with him, as he does regularly through his nonprofit organization, Athlete Ally.
The organization aims to end homophobia, transphobia and sexism in the athletic community. Taylor's credibility in this athletic context is supported by his past achievements, as well as his past as a wrestling coach at Columbia University in New York City.
Taylor said his allyhood for LGBT individuals' causes was first given attention from the media, and backlash from his peers, when he began to wear a Human Rights Campaign equality sticker on his wrestling headgear.
He discussed the seemingly harmless yet abusive language commonly seen in sports communities, as well as the importance of athletic inclusion and acceptance of LGBT people.
Taylor explained what it means to be a responsible advocate for LGBT people.
"Saving or changing someone's life, being a better ally or advocate, it doesn't take a year, a week, or a day," Taylor said. "It often times just takes two seconds … the two seconds when you're about to say something that you probably shouldn't or when you choose not to speak out against hate and exclusion."
Taylor said he utilizes his decades of experience within the athletic world as fuel for his fight for equality. His understanding of the types of discrimination that occur in sports culture has allowed him to directly connect with student athletes in collegiate and professional levels across the country.
Athlete Ally uses Campus Ambassadors, volunteer athletes, coaches and administrators to lead college and high school initiatives to uphold the principles of inclusion and respect in the athletic communities.
Throughout his talk, Taylor stressed Athlete Ally's main purpose: "to educate and activate people in sports to start changing dialogues, policies, and common practices in order to be more accepting to those who identify as LGBT."
By Matthew Whitney
Wrestling Gear