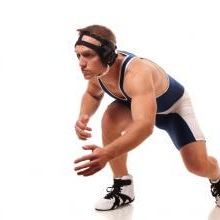 When the Titans spent their second-round draft pick on linebacker Zach Brown and their third-round draft pick on defensive tackle Mike Martin, they saw one aspect of the players' backgrounds that they particularly liked: Both were successful high school wrestlers.
Titans General Manager Ruston Webster said the team views it as a plus when players on the draft board have a background as a wrestler.
"It's something that to me, when a guy has been a wrestler, especially when he has been a successful wrestler, it says something about his toughness and his commitment," Webster told the Nashville City Paper.
Drafting a player with a wrestling background worked last year when fifth-round defensive tackle Karl Klug led the team with seven sacks as a rookie. Webster said he'll keep looking for wrestling backgrounds when he's looking for promising prospects in the draft.
"To me, wrestlers do have that natural leverage, and they understand leverage and they understand how to use their hands," Webster said, "and typically they are tough guys."
Wrestling Gear