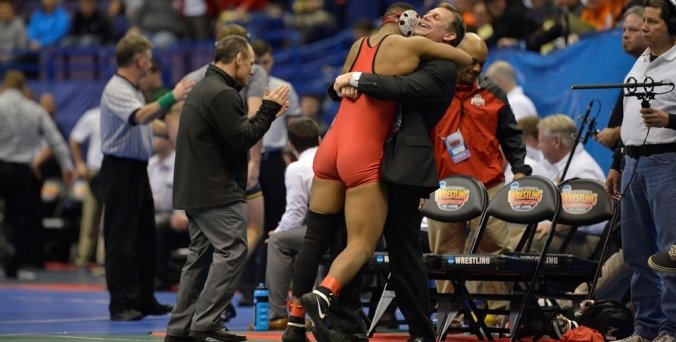 Ohio State head wrestling coach Tom Ryan has signed a five-year contract extension, TJ Shelton, associate athletics director for sports administration, announced today.
"Our wrestling program has enjoyed unprecedented success under Coach Ryan's leadership and he has established himself as one of the nation's best coaches," said Shelton. "Tom has led us to a place among the nation's elite during his nine years as our head coach. He and his staff have demonstrated the importance of the overall development of our student-athletes – providing outstanding community service, building a championship program and placing an emphasis on success in the classroom. We are delighted that Coach Ryan will continue to build character, integrity and accountability with our student-athletes for years to come."
"I'm grateful to Gene Smith and the department for thinking enough of me to sign me to another five-year contract," said Ryan. "This is a special place and I am fortunate to be in a position to impact lives, inspire others and pursue excellence. I'm looking forward to graduating another crop of recruits and continuing to bring pride to this university through the sport of wrestling."
Ryan, who recently concluded his ninth season in Columbus, has led the Buckeyes to unprecedented heights, culminating last season with the programs first-ever national championship. The 2015 Big Ten, NWCA and InterMat Coach of the Year, Ryan also guided the team to its first conference title in 64 years. Ryan is the first coach ever to be a three-time InterMat Coach of the Year selection (2008, 2009, 2015).
In all, Ryan has coached four different student-athletes to eight national championships, including just the fourth four-time champ in the history of the sport, Logan Stieber. Fourteen wrestlers have reached the NCAA finals and at the conference level, nine Buckeyes have been crowed Big Ten champions.
After arriving from Hofstra prior to the 2006-07 campaign, Ryan quickly molded Ohio State into a national power, highlighted by NCAA runner-up finishes in 2008 and 2009. Overall, the Buckeyes have finished in the top 10 of the NCAA championship team standings in eight of the last nine seasons. Ryan has a 113-42 dual match record at Ohio State, including a 47-26 mark against Big Ten competition.
In the classroom, Ryan's student-athletes are thriving as well. Eight Buckeyes have been recognized by the National Wrestling Coaches Association with NWCA All-Academic Team accolades – J.D. Bergman, J Jaggers, C.J. Magrum (two-time), Corey Morrison (two-time), Mike Pucillo, Colt Sponseller, Nathan Tomasello and Bo Jordan. Additionally, since Ryan's arrival there have been 48 Academic All-Big Ten honorees and 96 Ohio State Scholar-Athletes.
Wrestling Gear