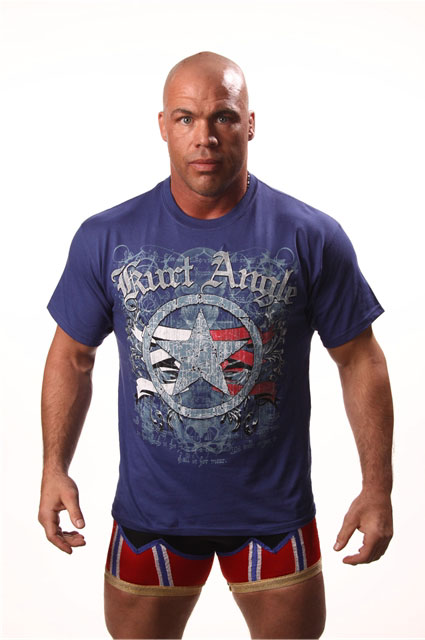 The Olympic gold medallist-turned-WrestleMania headliner on neck injuries, imminent movie stardom and why he's hoping to regain his title at London 2012.
You retired from amateur freestyle wrestling in 1996. What's convinced you to return at the age of 42?
Well, I wouldn't be doing it if I didn't think I could win Olympic gold. There's also the fact that my employer Impact Wrestling was happy for me to dedicate my time to the Olympics. It's not every company that would do that. Of course, I'm under no illusions about how hard it's going to be. Amateur wrestling's booming in the States at the moment so it's going to be damn hard to qualify. But if you know me, you'll know that I'm not someone to shirk a challenge.
Since freestyle wrestling's not that big over here, why should people buy tickets to see you compete at London 2012?
The fastest growing sport at the moment is Ultimate Fighting. And most of the top guys "Brock Lesnar, Georges St-Pierre and so on "their background is in amateur wrestling. So if you come and check out the freestyle wrestling at London 2012, the odds are you'll be seeing the MMA stars of the future. It could be like watching the boxing at Rome in 1960 and watching the young Cassius Clay in action.
If you qualify, most of the guys you'll be competing against will be college kids. How do you prepare to fight people half your age?
You might think I'd have to train like a young man, but that's not possible. The way I trained when I was in my early twenties was insane "I spent whole days running up and down hills. What comes with age is experience. I train much smarter now. I know I can't lift as much as my opponents, I can't spar as often. But I know how to get the best out of myself. And I know that if I dedicate my days to very specific tasks, to working on only one body part, say, I can get to where I need to be.
You've suffered more than your fair share of injuries during your amateur and pro careers. That can't help with your preparation.
I'm used to working hurt now. I won gold at Atlanta with a broken neck. Since then I've wrestled through a couple of broken necks as a pro.
"I've wrestled through a couple of broken necks" "that's not a sentence you hear everyday.
[Laughs] I know, but that's always been my approach. Had I taken time out to let all my injuries heel properly, I wouldn't have done much of anything these past 15 years.
Just for the record, how many neck surgeries have you had?
I've only had two surgeries but I've broken my neck five times. The last time was in Korea. I was wrestling a guy who's a huge star over there, Yeok Bal San. Trouble is, he's getting on a bit so while he's still very capable, he's prone to make the odd mistake, like dumping me straight on my head. Of course, he didn't mean to do it but the moment I hit the canvas I knew I'd broken my neck again.
Concussions are a big issue in combat sports today. Have you suffered your share?
I've had a few, yes. There was one time I was working with The Rock and Triple H and I was knocked for a loop. I have no memory of that match whatsoever. I was also in the ring when Brock Lesnar famously concussed himself at WrestleMania. Brock had gone to the top rope to perform a Shooting Star Press, a back somersault into the ring. When he mounted the turnbuckle, he paused for a moment and that's when I knew he was in trouble. Usually he wouldn't have thought twice, but because of the occasion perhaps, he took an extra second and that led to him landing right on his forehead. I thought we might have to end the match there; he was in such bad shape. In the end, I had to walk him through the end of the match. Then, when we got to the back, everyone was trying to get Brock to go to the hospital and he wouldn't hear of it. There was Brock unable to stand and vomiting everywhere and he wouldn't let any of the EMTs check him over!
With all those injuries is it any wonder you've been trying your hand at film acting?
[Laughs] Oh, acting's a lot easier on your body than wrestling. It has its challenges, though. For Warrior, the film I made with Tom Hardy and Joel Edgerton, they wanted me to play this Russian MMA fighter "a sort of modern-day Ivan Drago [Rocky IV]. I didn't have to learn Russian but I did have to lose 30 pounds because Koba, the guy I'm playing, is a middleweight. Shedding weight like that's not so easy at my age. But that film, Warrior, it's going to be off the charts, man. The picture's set in Moscow, Koba's hometown, so when I walk to the ring, the crowd needed to be red-hot. To hype them up, the production arranged to give away a truck to whoever made the most noise. So there I was surrounded by 20,000 extras screaming at the top of their lungs. I get shivers up the spine just thinking about that.
And having mentioned Impact Wrestling, you'll be back working for them in the UK next January.
Absolutely. We have an incredible following in the UK. Our fans in the US are great but since we're over there all the time, they can be a bit spoiled. But in Britain, we're here once a year and you guys go crazy for us. Next year's tour, Maximum Impact IV, is going to be particularly special because, for the first time in a decade, Sting "one of the biggest ever names in our sport "will be wrestling in England. Will I be working with him? I don't know "but it'd be really cool if I was.
Wrestling Gear