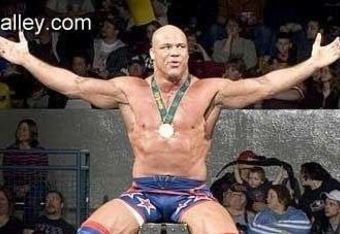 By Travis Smith
Kurt Angle seems to have done it all in professional wrestling. He has been world champion 14 times, a former WWE King Of The Ring, a triple crown winner in WWE and TNA, and was named by the Wrestling Observer Newsletter the wrestler of the 2000s decade.
With everything Angle has done, nothing matches his greatest accomplishment: his 1996 Olympic Gold medal in freestyle wrestling. The accomplishments are great, but Angle is again striving for more, as he will be competing for his second gold medal.
Angle has not been favored by many wrestling fans as of late for some of his out of the ring issues in the past three years, but wrestling fans around the world should support Kurt in this challenge because it is not every day that a professional wrestler gets a chance to compete for a major title/medal in any sort of athletic company.
The last time something like this did happen was when Brock Lesnar attempted to land a gig in the NFL in 2004 and then went on to achieve greatness in the UFC. If Angle does succeed in his latest challenge, then he will become one of the oldest athletes ever to win a gold medal.
Now the facts are in, and it shows that it is extremely difficult to make it to the Olympics; heck, just ask Angle himself when he failed to make it in 2004 due to a neck injury. The Olympics are the best of the best athletes competing for individual glory and national pride. If Angle even makes it to the Olympics, that alone will be a huge accomplishment because all the odds are against Angle, from his health issues to the simple fact that he is now 43 years young.
Now you may be wondering why this even matters to you wrestling fans. Well, it does, because if Angle does well, then the publicity that comes with it will be brought to the pro wrestling industry and it will be a huge spark of interest in younger folks who follow amateur wrestling, and maybe this will even lure amateur wrestlers into trying to become the next Kurt Angle in professional wrestling.
Angle wrote on his Twitter account: "Look for my upcoming Reality Show on my path to the Olympics. It starts this Fall. Keep all of you posted. My training is where it needs to be. I'm ready to attempt to make history at 43 years of age. TNA is backing me on this. Thank you to the Carter family and Dixie. Love you."
So with the upcoming journey comes huge risk and rewards for Angle, but one thing that everyone in the IWC should agree on is that we all support Angle on attempting to win another gold medal for the United States of America. This is a great way for wrestling fans to interact with non-fans and really get some new followers to the product, and this also will be a great way to show some patriotic pride. So all I can say is Go Angle Go!
Wrestling Gear