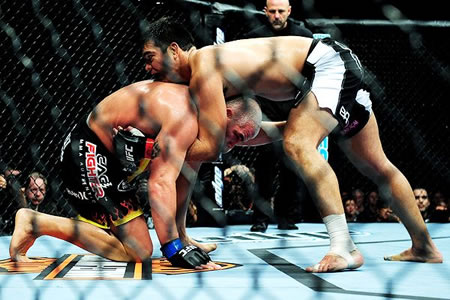 Mixed martial arts has always had a difficult time deciding exactly how much it is sport and how much it is fighting. And while virtually every aspect of the sport needs fine tuning in terms of judging criteria and point scoring, no discipline in MMA personifies the sport's struggle for identity as much as wrestling.
The recent debate on the conservative use of wrestling in MMA has gained a lot of steam from respected journalists and fighters, and while a compelling argument can be made on both ends, the level of immaturity and juvenile discourse from those in favor of the current set of rules is deplorable.
Recently, when fighters like Cole Miller, Dan Hardy, Paul Daley and Michael Bisping spoke out against some of the wrestling-based tactics used by an increasing number of fighters in MMA, they were inexcusably met with infantile criticism.
Because these fighters aren't known for being particularly strong wrestlers, sadly some journalists actually went for the incredibly obvious "sour grapes" or "they should learn to stop a takedown" argument. Regardless of the degree of truth to those types of statements, it's all too easy to say "stop a takedown" when, in reality, there is no such thing as takedown defense in MMA.
The concept of takedown defense is as mythological as an Olsen twin breakfast. Takedown defense isn't like a video game stat that you incrementally build up to where you can no longer be taken down. A fighter's ability to avoid takedowns is relative to who is trying to take them down and how hard. B.J. Penn is the most recent and relevant example of the takedown defense myth.
Penn was once thought to have the absolute best takedown defense in MMA, as he gave fighters like Matt Hughes and Georges St. Pierre fits when they decided they wanted to take their fights with him to the floor. However, Frankie Edgar – who weighs 30-40 lbs less than St. Pierre or Hughes – was able to take B.J. Penn down seemingly at will in their UFC 118 encounter.
Ironically, Nate Marquardt, one of the fighters to have espoused the "learn how to wrestle" philosophy found himself on his back within minutes of his fight with Rousimar Palhares. If Palhares played an ultra conservative top game instead of going ballistic for leg locks as Marquardt expected him to, he certainly could have won the round off that takedown.
The problem isn't the frequency in which wrestlers win unfair decisions, the volume at which wrestlers are able to win them, or even entertainment value. The problem is that the rules don't explicitly penalize stalling. In actual amateur wrestling matches, stalling is illegal because of the fact that it is physically impossible to get someone off of you who only wishes to hold you down.
If you look at the recent WEC fight between Chad Mendes and Cub Swanson, Mendes simply took down an inferior wrestler in Swanson, decided not to do any damage, not pass guard, and instead just hold him down. He held Swanson down, cleverly gave him just enough space for Swanson to get back up so that Mendes could avoid the intervention of the referee, and then took him down again.
Mendes was able to repeat this process over and over again until he won a unanimous decision. Even if a referee actually does intervene, it in no way penalizes an inactive fighter. It doesn't give back the time on the clock that was eaten up, and is thus stalling. One has to wonder: if stalling isn't legal in wrestling, then why is it legal in mixed martial arts and then heavily praised?
A strong offensive guard doesn't nullify the stalling wrestler either, because jiu jitsu is designed to punish an offensive opponent and requires the movement of that opponent for space for sweeps or submissions. Even worse than that, in terms of point scoring, nothing is easier and is scored more than a takedown. A takedown requires just a few seconds to complete, but it scores more than a submission attempt.
For a fighter to nullify the points scored for a takedown, he has to either get up and take his opponent down for the points, or end the fight from his back. Those are two lengthy and time consuming propositions to have to accomplish within in a five minute window, especially compared to the relative ease in completing one takedown and holding position.
Again, MMA has always had a difficult time deciding exactly how much it is sport and how much it is fighting. While MMA is certainly a sport based on fighting, the struggle between the two stems from the various ways in which fighters can stall and win fights by simply neutralizing offense without actually being offensive themselves.
Some feel that if MMA were a "sport," then the tactics of neutralizing and controlling an opponent should be rewarded, while others feel that if MMA were about actual "fighting," then stalling the action should be outlawed. The answer obviously lies somewhere between the two, however the adjustments that need to be made are fairly obvious.
By: Jason Amadi, MMATorch Columnist
Wrestling Gear