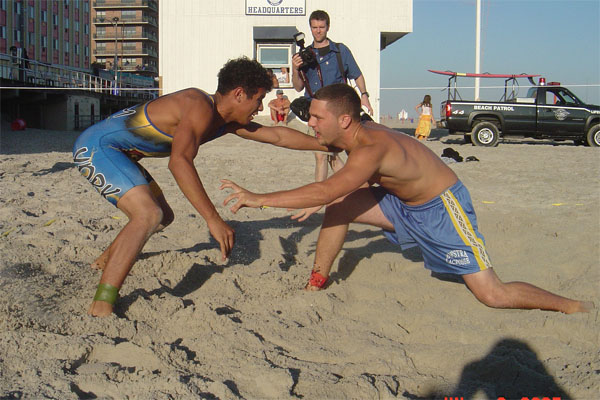 By Jackie Friedman NEWS SPORTS REPORTER
It was game time.
Matt Mariacher got up from the towel on which he had been passed out for the last half an hour, dusted the sand off his legs, straightened out his orange swimming trunks and headed over to the ring.
"It's a relaxing change," Mariacher's father Matt said of beach wrestling. "Normally we're in a gymnasium somewhere. We figured it'd be a little bit different. They could wrestle a little bit, do what they trained hard for, yet enjoy a day at the beach.
"A large part of the public never gets to see [wrestling]. Out on the beach, the sport catches the eyes of a lot of people just walking by, and the wrestlers have a big crowd watching."
Matt and his 20-year-old brother Reece didn't wrestle in the Beach Nationals at Charlotte Beach in Rochester last Saturday to get exposure. The former Iroquois standouts took part in this new venture " the Rochester event was the fifth of six beach wrestling events on the summer schedule " to compete together before they head to their respective colleges.
In beach wrestling, two swim suitclad competitors are pitted in a watered- down ring in the sand. Onlookers didn't need much help picking out the winners " generally they were the people with less sand on their backs and in their hair and mouths.
After winning the Junior 145- pound division, Matt was still spitting sand.
"It gets pretty bad," he said. "There's sand in my mouth and stuff. It's pretty gross."
"It's kind of weird," Reece added. "It's like wrestling and then walking off with sand in your hair. But you get used to it."
Reece didn't fare as well as his younger brother, winning only one of his three matches. Nevertheless, both brothers plan to come back next year, hopefully dragging along Reece's twin, Lucas.
"I'll bring more people next year, more of my friends," Reece said. "We can just hang out between matches. I'll just walk off, wrestle and be back on the beach with them 30 seconds later."
Reece and Lucas both recently finished their freshman years of college, Reece at the State University of New York at Brockport, with intentions to transfer to the University at Buffalo this fall, and Lucas at Arizona State. Matt, who won the Division I New York State title at 130 pounds, will head to American University.
Reece and Lucas will compete in this month's Empire State Games in Westchester, while Matt is in Washington, D.C. to train with his future college coach and teammates. Several years ago, Reece and Lucas met in the Empire Games finals, Lucas coming out on top.
"I was actually winning, and I let him throw me and pin me," Reece said, matter-of-factly. "We wrestle each other all the time, but we don't take it serious. Maybe next year Matt might [be in our weight class]. It depends how much he lifts and eats over at college."
Matt is not only the baby of the family, but also the runt, wrestling two weight classes (approximately 16 pounds) below the identical twins. He said growing up behind his brothers provided him a glimpse of how to train and compete at a high level.
"You can see how hard work pays off," Matt said. "And it's fun being able to work out with them, having people doing the same stuff with you every day."
With the three of them spread throughout the country come the end of August, they'll have fewer opportunities to watch and train with one another. That's why next summer, when Matt's home from his first year of collegiate competition, events like the Beach Nationals will be that much more exciting.
"It's great because I don't have to worry about him in high school now," Reece said, laughing. "We're all like on our way now."
Wrestling Gear