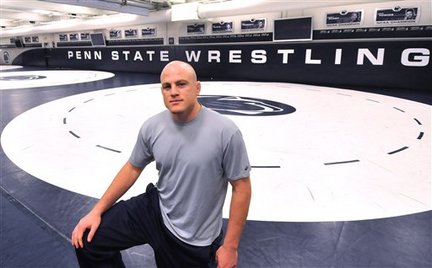 UNIVERSITY PARK — Cael Sanderson has savored the sweet taste of success while leading the Penn State wrestling program to national dominance.
Before big matches, Sanderson will have his wrestlers eat cake to celebrate how well they're going to perform.
It's a practice, borrowed from team counselor and close friend Bonnie Epstein, that Sanderson employs to increase accountability and keep things light, two tenets of his young tenure.
"Anytime you can get kids to really imagine and picture themselves being successful, that's what we want to do," Sanderson said. "Whether it's having a cupcake or them drawing pictures of themselves, it's really important."
Penn State has won the past three NCAA Division I wrestling championships and again is ranked No. 1.
There arguably has been no bigger reason than the polite, soft-spoken Sanderson, one of the greatest collegiate wrestlers of all time and an Olympic champion.
Sanderson, 34, has enjoyed a seamless transition from world-class athlete to coach, something even Wayne Gretzky, Ted Williams and Isiah Thomas failed to do.
"It's about being able to put a team together and try to be the best team in the country or the best program you can be," Sanderson said. "That's exciting to me. I like building stuff."
What Sanderson has built has changed collegiate wrestling, pushing Penn State into the conversation normally reserved for Iowa and Oklahoma State.
How he's done it has been even more unlikely.
Whether it's celebrating in advance, playing the same song over and over at practice as a way to get his wrestlers to tune out background noise or requiring them to draw pictures of themselves, Sanderson's approach hardly is conventional.
"We do so many things where you think, 'Why the heck are we doing this?' " said junior Nico Megaludis, a Franklin Regional graduate. "But it helps."
COMMANDING RESPECT
Cael Norman Sanderson was born June 20, 1979, in Provo, Utah. Wrestling was what Sanderson boys did. Cael wrestled at Wasatch High School for his father, Steve, compiling a record of 127-3.
Like each of his brothers — Cody, Cole and Cyler, who later transferred to Penn State — Cael went to Iowa State.
Unlike the other three, Cael didn't lose — in 159 matches.
He is the only wrestler in NCAA history to win at least 100 matches and not lose, and he is the only undefeated four-time NCAA champion.
Sanderson appeared on a Wheaties box. Sports Illustrated and ESPN's "SportsCentury" chronicled his career. He won an ESPY.
Yet Sanderson isn't one to brag.
"We have to update résumés from time to time, and Cael got me a résumé that's about half a page long and that didn't speak at all about his wrestling career," Penn State athletic director Dave Joyner said. "It talked about his coaching history. He could have had about a 30-page résumé probably, and he had to go create one. It was all accurate, but it was all about his coaching."
Sanderson reached the pinnacle for amateur wrestlers, winning gold at the 2004 Athens Games. But that hardly guaranteed success as a coach.
A desire to become the best at his profession has led Sanderson to soak up motivational techniques, not only from wrestling minds but also from two of his favorite authors on leadership, John Maxwell and Jack Canfield. Maxwell is an evangelical Christian author, motivational speaker and pastor. Canfield is the co-creator of the "Chicken Soup for the Soul" series.
"I don't know where it comes from, but I can say that from the time he was young, he's always been motivated to not necessarily be the best but to be as good as he can be in whatever he does," said Cael's older brother, Cody, who is an assistant coach at Penn State. "That's just how he was from the time that I can remember. Where it comes from I'm not sure, but that's who he is."
A SEA OF INSPIRATION
Cael Sanderson didn't waste time decorating his office in Penn State's Rec Hall.
His cell phone and a laptop are two of the only items on his desk other than books and a Nittany Lion Wrestling Club program. T-shirts, tucked neatly inside hats commemorating Penn State's accomplishments, sit on top of a bookcase behind Sanderson, who is wearing a straight-brimmed baseball cap and a jacket that fits tight to his muscular frame.
The lone non-wrestling item, outside of pictures of his wife, Kelly, and sons, Tate and Teag, is a Dr. Evil toy Sanderson said a friend gave to him in college. Perhaps, though Sanderson doesn't say this, it was because he doesn't look all that dissimilar to Austin Powers' nemesis.
The most revealing item is a board Sanderson created that crowns Penn State as the 2014 national champions … about four months early. There are drawings Tate and Teag created and pictures of Sanderson's wrestlers having their hands raised after victories.
It also has motivational quotes:
• • •
"Great moments are born from great opportunities." — Herb Brooks
"If you want to build a ship, don't drum up people together to collect wood and don't assign them tasks and work, but rather teach them to long for the endless immensity of the sea." — Antoine de Saint-Exupery
• • •
The latter defines Sanderson's coaching style perhaps more than anything else.
"I think you have to look at everything in a playful way and with humility of, 'Is there a better way than what we're doing? Is there a better way to help somebody or reach somebody?' " Sanderson said. "And that's not easy. It's easier just to say, 'This is the way, and you do it.'
"It's really easy as a coach to just tell guys what they need to do. Anybody can do that. Anybody can watch our match and work on finishing a single-leg takedown — because that's easy. That's not coaching. Anyone in the stands can do that. Actually getting them to make an adjustment — that's the challenge. That's what you try to figure out."
KEEPING HIS PROMISE
In addition to cake, Sanderson's unconventional tactics include playing an adjusted version of football before practice or dodgeball after.
He has his wrestlers keep diaries. Occasionally he makes them draw pictures of themselves, a nod to his college major: art and design.
Sanderson, adhering to his belief system, continues the practice alongside his wrestlers.
"You have to do the same things you ask your kids to do," Sanderson said. "If you're telling your kids they have to believe in themselves, I have to believe in them first. If you're telling them to keep a journal, then I need to keep a journal.
"If I'm telling them to work hard, then I need to work hard. If I'm telling them to live a lifestyle, then I need to live the lifestyle.
"It's real easy to share theory. It's another thing to practice it."
Sanderson will blast the same song, sometimes for hours, during practice as a way to "drive the kids crazy." One example — "What does the fox say?" — is worth a trip to YouTube. Two of the more unpopular choices have been He-Man, the cartoon superhero, and square dancing.
"It's a little annoying," former Derry wrestler Jimmy Gulibon said. "But I guess you get used to it."
Why does Sanderson do it?
"You don't get to choose the sounds you hear at the national tournament," he said.
MAKING HIS MARK
Trading the comforts of Iowa State for Penn State worried Cody Sanderson.
Building stuff was one thing, but Penn State was 8-12-2 the year before the Sandersons arrived in April 2009 and hadn't won a national title since 1953.
This wasn't a new roof. Cael Sanderson wanted to remodel the entire house and build a few more around it.
"I was uncertain about what to do," Cody Sanderson said. "We attended Iowa State. We had a strong connection and tie to the university and team. We had those relationships that you build with guys on the team. It was something we talked about extensively, and we spent a lot of time deciding what would be the best.
"I was a little more uncertain than he was. We decided together with other members of the coaching staff and went for it 100 percent. He went for it 100 percent. You make the decision, you can't look back, and he hasn't."
A contract extension Cael signed in August 2012 that pays him $175,000 a year until 2017 surely doesn't hurt — he ranks among the highest-paid wrestling coaches in the nation. Neither does Penn State's sparkling Lorenzo Wrestling Complex, with flat-screen TVs, a state-of-the-art weight room and pictures of past national champions hanging on the wall.
"I think he felt it was time for him to make a change," Cody Sanderson said. "This was a place he could not necessarily start fresh but do some things that he wanted to do differently."
That Cael Sanderson has done.
And the recipe he's been following has tasted awfully good.
"He's at the top of his game," Joyner said. "We're going for our fourth consecutive NCAA wrestling championship, and I think we're going to have a really solid team. Having him here has just increased the excitement on campus. And really, in a wrestling hotbed, to have this kind of presence and to have what he's been able to do with the team, has added tremendous excitement to campus."
Wrestling Gear