November 3rd, 2010 by Tom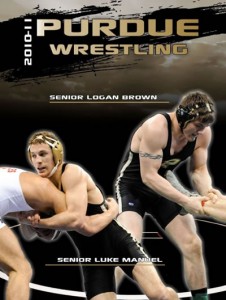 WEST LAFAYETTE, Ind. - The Purdue wrestling team is set to open its season on Saturday with the first practice of the season. The Boilermakers are set for their best season in recent history, returning seven NCAA Championship qualifiers and seeking their first top-10 national finish since 1991.
Leading the way for the Old Gold and Black is fourth-year head coach Scott Hinkel, who last year became the first coach in school history to post a winning dual record in each of his first three seasons at the helm. He guided the Boilermakers to their third straight top-30 team placement at the 2010 national championships and coached a Purdue wrestler to All-America status for the second straight year. With this year's strong senior class, Hinkel has his sights set on nothing but outstanding results.
"We have the talent, drive and work ethic to make this year something special, "said Hinkel. "These guys have worked incredibly hard, on the mat, in the classroom and in the community, and we're all ready to see it pay off."
The Boilermakers have earned lots of national respect from potential opponents and the various national polls, including No. 13 rankings from WIN Magazine, TheOpenMat.com and Amateur Wrestling News, a No. 17 ranking from D1CollegeWrestling.net, a No. 20 ranking from WrestlingReport.com and an invitation to the NWCA National Duals.
Purdue officially starts its season Saturday, Oct. 16, with an open practice at 10 a.m. in the Blake Wrestling Center in Lambert Fieldhouse. The homecoming football crowd and general public are invited to join the Boilermakers for a meet and greet, and then hang out to watch the first practice of the year. "We're very excited about this season, and we want Purdue and the surrounding community to be excited too, "said Hinkel.
125 Pounds
The Boilermakers have an incredible luxury at 125 pounds with the return of 2010 All-American Cashé Quiroga to the lineup. Quiroga became just the third true freshman in school history to earn national honors, taking sixth place at the NCAA Championships, and finishing 28-15 on the year. He's also the first freshman at Purdue to crack the 100-takedown mark, racking up a team-best 124 takedowns, which is good for the sixth-highest single-season total in Boilermaker history. Quiroga is receiving a wealth of preseason attention from the various polls, including a No. 4 national ranking from WIN Magazine.
Quiroga will get a wealth of support and challenge for his spot in the lineup as redshirt freshman Camden Eppert is roaring to go after sitting out his first year at Purdue. Eppert was the 2009 Indiana State Champion at 119 pounds, knocking off heralded recruit Brandon Wright in the state finals, and was tabbed the nation's No. 63 recruit coming out of high school by InterMat. Also joining the ranks is Quiroga's former high school teammate, Brandon Nelsen, who comes to Purdue after winning the 2010 Indiana State Championship at 119 pounds. Nelsen was 187-27 in his high school career, including a 51-1 mark as a senior and 50-4 mark as a junior.
133 Pounds
Purdue's 133-pound group is stocked with talent, highlighted by 2010 NCAA qualifier Akif Eren and junior Jake Fleckenstein. Eren set a series of career bests last year, including his 24-15 record and sixth-place finish at the Big Ten Championships, while Fleckenstein looks to cut down from 141 pounds last season, where he was 15-6 before a season-ending injury. Fleckenstein racked up an impressive 91 takedowns in his 21 matches, including seven major decisions and a trio of technical falls. Eren has been named the nation's No. 27 wrestler at 133 pounds by WrestlingReport.com.
Bolstering the effort at 133 are juniors Matt Fields and Bill Putman, who have come on strong over the last year. Fields is 27-18 over the last two years, varying between 125 and 133 pounds. He's been a stud on top, sticking 10 opponents and rolling up 102 career back points. Putman was 14-11 last season in action at 133 and 141 pounds, including fifth-place efforts at the Cleveland State and Missouri Opens and a third-place finish at the Indianapolis Greyhound Open. Also certifying at 133 pounds is freshman Nick Lawrence, who was a two-time runner up at 125 pounds in Ohio before missing his senior year due to injury.
141 Pounds
Senior Juan Archuleta represents another of the Boilermakers' returning national qualifiers, going 28-14 last season with a fourth-place effort at the Big Ten Championships and a 2-2 mark at the NCAA Championships. Ranked 13th in the country in a pair of preseason polls, Archuleta nearly cracked the 100-takedown mark, totaling 96 to tie for 20th on the Purdue single-season record list. He had several impressive matches and wins last season topping Big Ten Champion Mike Thorn of Minnesota, Missouri's Todd Schavrien, Elijah Nacita of Cal State Bakersfield and Ivan Lopouchanski of UNC Greensboro. With Archuleta scheduled to miss the first semester of competition, look for Eren or Fleckenstein to bump up and cover the 141 pounds slot until January.
Archuleta leads a very young, but talented weight class for Purdue, which features freshman standout Brock Norton, who was an unblemished 39-0 last season en route to the Indiana state title at 135 pounds.
149 Pounds
The starting job at 149 pounds for the Boilermakers comes down to redshirt senior Sam Patacsil and redshirt sophomore Tommy Churchard. Patacsil is the front-runner after being granted a medical hardship and sixth year of eligibility from the NCAA, and posting a 38-22 record over the last few seasons. With a wealth of varsity action at 149 and 157 pounds in 2009-10, Patacsil built an impressive 18-11 mark, including wins over nationally heralded James Fleming of Clarion and Collin Palmer of Ohio State. He amassed 79 back points on the year, good for the No. 12 single-season mark at Purdue, and built his career total to 141, which is tied for ninth in school history. Churchard is primed for the move to 149 after wrestling most of his freshman season at 141 pounds. His 7-5 record included a 4-0 championship performance at the Indianapolis Greyhound Open, which featured two pins and two major decisions.
Freshmen Frankie Porras, Josh Martin, Travis Rohde and Dustin Schultz support the ranks at 149, projecting to redshirt their initial season. Porras was one of the nation's best at 145 pounds last season, earning mention from InterMat and D1CollegeWrestling.net, after winning Indiana state titles in 2009 and 2010, while Martin is the younger brother of former Boilermaker Jason Martin and was an Indiana state championship qualifier in 2010. Rohde and Schultz both qualified for their respective state tournaments their senior years as well.
157 Pounds
Senior Colton Salazar puts the Boilermakers' 157-pound slot in good hands, heading into the season with a trio of NCAA qualifications and Big Ten Championships placings under his belt. Salazar posted his first career 30-win season in 2009-10, finishing 30-13 on the year and rolling up a career- best 81 takedowns, and had his best-ever showing at the conference championships, taking second place. Salazar has already received some solid early-season attention, being tabbed No. 13 in the country by WIN Magazine and 15th in the nation by WrestlingReport.com.
Salazar has a parade of freshman lined up behind him at 157, featuring Austin Kunze, Pat Robinson, Ryan Stahl and Alex Surma. Each member of the group were state qualifiers their final years in high school, while Robinson, Stahl and Surma were state placewinners in Indiana as Robinson was third at 145 pounds, Stahl was fourth at 152 pounds and Surma was fourth at 145 pounds.
165 Pounds
With the graduation of Jason Martin, the Boilermakers will see a fresh face at 165 pounds this season, and could be any one of four young grapplers. Freshmen Kyle Mosier, Ethan Smith, Patrick Kissel and Cameron Vlahos all have their hats in the ring, each boasting a set of solid credentials. Mosier is the lone redshirt of the group, sitting out last year and gaining valuable experience. He had 173 career high school wins, including 119 pins, and placed at the Indiana state championships three times.
Smith comes back to the Boilermakers after spending the last two years on a religious mission in Chile, signing with Purdue out of Wasatch High School in Utah, the same as current teammate Colton Salazar. A nationally-ranked recruit in 2008, Smith was a two-time state champion and took fourth-place at senior nationals in 2008 at 160 pounds.
Kissel hopes to follow in the footsteps his older brother, A.J., who had an outstanding rookie campaign for the Boilermakers in 2007-08 as a true freshman. Patrick Kissel won a pair of Wisconsin state high school titles at Oostburg High School, finishing with a 158-9 career record and more than 70 career pins.
Vlahos looks to be a hometown hero for the Boilermakers, hailing from Harrison High School in West Lafayette, where he was a two-time state championship qualifier. He took fourth place at the state meet last season at 160 pounds, and set several school records, including a season-best record of 56-4, 136 career wins and 69 career pins.