November 4th, 2007 by Tom
If you're a fan of older wrestling shoes, the ASICS Gable Wrestling Shoes are just the think you're looking for.
Gable Wrestling shoes have that classic style that no other shoes can beat. Smooth and stylish without the modern look and feel. And best yet, you can get them brand new!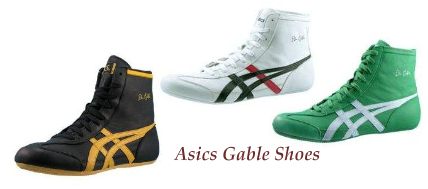 The Gable shoes come in a variety of cool colors including:
Green & White
Black & Gold
Red, White & Blue
Orange & Black
White, Black & Red
Navy, White & Red
These wrestling shoes may look like their from the 1980's, but they kick ass as good as any of today's shoes.
Shop for Gable Wrestling Shoes
.