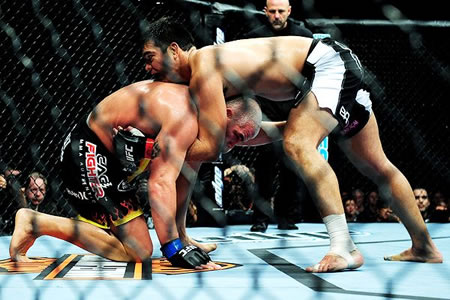 When any sport is contested on the global stage, it serves to further legitimize the impact of the sport as well as introduce it to new audiences. There is no bigger stage than the Olympics. With competition occurring only once every four years, the entire world focuses its attention on the events.
After more than 100 years of holding the games, many sports have come and gone. However, sports such as wrestling and boxing have been staples since the very beginning. Both of those sports"as well as judo and taekwondo"are disciplines that are commonly used in the sport of mixed martial arts and are currently contested as Olympic sports. So why not MMA?
Without a doubt, MMA has grown exponentially over the past 20 years. It's reach goes far beyond the borders of one nation"as evidenced by the UFC currently having three Brazilians, three Americans and one Canadian as champions. The sport is certainly deserving of consideration, and the added exposure would only fuel its growth on the global level.
Unfortunately, it's not as easy as one might think.
Perhaps one of the biggest hurdles of bringing MMA to the Olympics would be that the aforementioned sports are contested at the amateur level. Although a large faction of MMA promotions have adopted the unified rules for professional competition, the same cannot be said for amateurs. Until a set of unified rules for amateur fighters is implemented on a larger scale, it is difficult to envision establishing rules for Olympic competition.
The other approach would be to let professional athletes compete"much like in hockey and basketball"but the logistics of such an endeavor are complicated. Promotions would have to shut down in the same manner that the other professional leagues have done in the past. However, those mid-season breaks were negotiated through players' unions in collective bargaining agreements"something MMA does not have.
Either way, fighter safety would have to be addressed. Olympic boxers wear headgear during competition, and it is likely that MMA would require the same sorts of measures. Would the safety measures impact how fighters perform? Furthermore, would the wear and tear on fighters' bodies during a tournament format have long-term effects on their professional careers?
Regardless of the issues that need to be resolved, having MMA in the Olympics would only help the sport. Having support at the international level would help overcome current regulatory issues in a number of states and countries. Additionally, young athletes would be able to utilize their countries' training centers without requiring an elite gym nearby.
The bottom line is if you can get a gold medal for synchronized swimming, the prospect of getting one for MMA should become a reality.