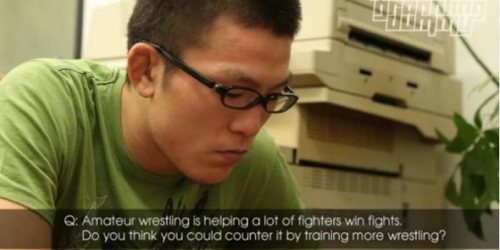 By: Brian Lopez-Benchimol
Shinya Aoki is probably one of the most reserved fighters in the sport.
Although his in-ring antics against Mizuto Hirota at "Dynamite!! 2009″³ would inidicate otherwise, the grappling ace usually keeps to himself and refrains from doing a lot of outlandish things. Maybe that's why the Japanese have embraced him as their leading man in the world of mixed martial arts.
However, most recently, the famed Judoka has stepped out of his shell and lit the MMA world abuzz once again, with his almost brutal honesty, on how he views the Western MMA scene (um"¦us) and how they can benefit by tuning into DREAM, once in a while.
Here is a transcript from a short interview Aoki, the DREAM lightweight champion, had done with Grappling Dummy, in an official DEEP affiliated gym, in Tokyo, Japan. Props to MiddleEasy for the find.
If you'd like to read the transcript in it's entirety, the tread along, otherwise, if your looking for the meat and potatoes, what he thinks about the UFC, his favorite fighters, etc, then scroll on down towards the end.
GD: Are you any closer to achieving the "ideal self" you talked about in recent interviews?
SA: Yes"¦ by practicing everyday, I get closer to my ideal self. It's the training itself, every day.
GD: Amateur Wrestling is helping out a lot of fighters win fights. Do you think you can counter it by training more wrestling?
SA: I am not a wrestler, so"¦ But I do have elements of wrestling in my style. I don't think I'm going to change what I do that much.
GD: Now that prize money is offered in grappling competitions like Abu Dhabi Pro, would you compete in jiu jitsu again?
SA: Abu Dhabi Pro"¦ What's the prize money?
GD and Associates: (scuffling, and some back and forth) Do you have any idea? No, I don't know. Maybe it's like"¦ five thousand dollars. Pretty small.
SA: Multiply that by ten and I might do it!
GD: How do you feel about the western fighters comparing themselves to the samurai of Japan?
SA: Samurai are the guys with the chon-mage haircut and swords"¦ They aren't walking around today. It's probably a misunderstanding of the Japanese culture.
GD: Are martial arts just fighting or do they teach you to be a better person?
SA: Well, it's my job. I don't really know if it would benefit me"¦ A lot of people say that fighters are good people, but I'm not sure how useful it is for a professional fighter to be a nice guy.
:::: Free conversation, starting with BJ Penn's loss to Frankie Edgar ::::
SA: BJ lost the fight, but"¦ I am a really huge fan of BJ Penn. In fact, he's my favorite fighter. Technically he lost, but"¦ Real martial arts means a knockout or a submission. I still think he is the "number one". I think the problem in the fight was that BJ didn't try hard enough to get the submission and finish the fight. I think that was the problem. Maybe technically it was a good game, but not very interesting.
GD: Do you want to see Gray Maynard vs Frankie Edgar?
SA: I don't! (laughs).
:::: Free Conversation Concerning Western MMA; Specifically, the UFC ::::
SA: I am a really big fan of the UFC. I love it. But the wrestling style of take down, holding"¦ Standing, a little boxing, then another take down"¦ It's boring. Going for the submission, the KO, is much more interesting. That's what Japanese MMA is all about. Lately, in the UFC, there are some amazing fighters, but"¦ It's not always exciting.
:::: Favorite Fighters ::::
SA: My favorite fighters are BJ Penn, Joe Stevenson, Kenny Florian, Melvin Guillard, Nate Diaz. I like aggressive fighters. All this wrestling is boring.
:::: The Gilbert Melendez fight in Strikeforce, last April; his last loss ::::
SA: (In the Melendez fight) it had nothing to do with the cage. I was simply weak. I can't really explain it in words, but"¦ Step by step, I'm improving. It will be fine.
:::: His opinion on the top 4 fighters in the lightweight division ::::
SA: BJ Penn, Eddie Alvarez, Gilbert Melendez, Frankie Edgar"¦ Anyway, there's four (top lightweights). With BJ as number one. The most aggressive is Eddie Alvarez. The most defensive is Franke Edgar. Gray Maynard!"¦He's a"¦(hesitating) good wrestler.
:::: MMA Promotions Aoki watches ::::
SA: I watch all the American MMA shows. From Elite XC, then Strikeforce, the UFC"¦ Basically I watch everything. When a fighter get's released from the UFC, they move down to a local promotion. Sometimes they win, sometimes they lose. With tough fighters coming up, it's good.
GD: How much weight do you cut?
SA: Five or Six kilograms (which translates to 11 to 13 pounds). (Cutting lots of weight) is not good for the body. American fighters train so hard, they use a lot of supplements. So their fighting peak is pretty small.
(except Randy Couture)
SA: (Smiles and nods)
I encourage everyone to watch the video when they have a chance. I'm sure the little nuances and such would be much better translated on video instead of me writing it all out, inch by inch.
So, MMA peeps, what's your take on Aoki now? Have your views changed? Do you agree with his assessment of the Western MMA scene? Sound off at fighters.com.
Wrestling Gear